Safe Routes to School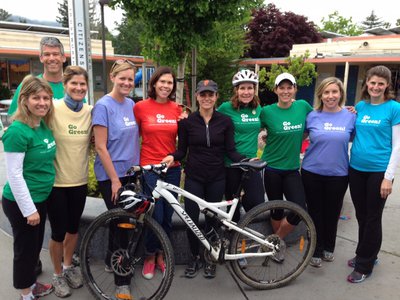 The Kentfield School District encourages all families to actively participate in our nationally-recognized KSD Safe Routes to School program, a neighborhood-focused initiative to advocate green travel alternatives and address traffic safety at our schools. The goal of the program is to offer students safer and greener alternatives to get to and from school.
The team of Neighborhood Captains will provide you suggested safe route maps, schedules for walking and cycling to school, and carpooling options all customized by neighborhood. They will also advocate for traffic safety concerns on behalf of the families in your neighborhood.
Please consider walking or biking with your children to school. This will reduce traffic congestion around our schools, allow you to spend quality time with your children, and give them some healthful exercise before school. Children arrive at school alert and ready to learn. Our KSD Safe Routes to School program provides suggested safe walking and biking route plans and has organized walking and biking groups for every neighborhood in our district.
Back to School Safety Tips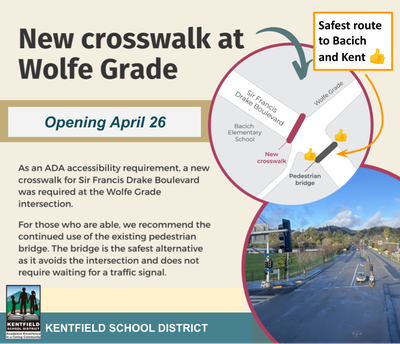 Crosswalk at Wolfe Grade & Sir Francis Drake
As you plan ahead for your child's walking and biking safety to/from school, please be aware that a new crosswalk is installed at the Wolfe Grade and Sir Francis Drake intersection, located in front of Bacich and Sloat Nursery.
Even though the new crosswalk crosses Sir Francis Drake heading towards Bacich, for student safety, we have made the following recommendations about its use:
Students should continue to use the current route they've been using going to/from school.
Kent bicyclists should proceed down to the Laurel Grove crosswalk to cross with the crossing guard as they do now, and then proceed down McAllister to school (instead of using the new crosswalk and riding through Bacich campus).
Kent and Bacich walkers should continue to use the overpass or the Laurel Grove crosswalk.
Please share this with your child, particularly if they travel independently to school. Thank you for your partnership to ensure our Bacich bears and Kent falcons travel safely to and from school!
If you have questions regarding this recommended route to school, feel to contact Tanya Vernitsky, Safe Routes to Schools representative, at tanya.vernitsky@gmail.com. Thank you!
In-Person Instruction During COVID-19
Safe Routes would ask that you strongly consider having your student walk or bike - great exercise much needed, great start and end to school day, and can be done taking necessary precautions to socially distance from others. See below for some information on safety basics, modifications made for one of our busiest thoroughfares, and what you need to know about Sir Francis Drake (SFD) project construction.
SOCIAL DISTANCING BY BIKE OR WALK(click here for flier)
Make sure to keep at least 6 feet away from other bikers or walkers unless in your family or pod
Give other bikers and walkers a wide berth when passing and put your mask over your face when you do so.
If less than 10 feet to safely pass, ask if it's OK to ride past. Make sure you're a good distance away when asking to you don't startle anyone
And for bikers, don't forget: follow rules of the road, watch out for cars, don't ride too quickly, slow or stop when passing others, wear a helmet, bike in the same direction as cars, obey stop signs and traffic lights, use your hand signals, and always Stop, Look and Listen before entering or crossing a road
COVID MODIFICATIONS – ACACIA AS "SLOW STREET"
The County worked with Safe Routes and School administration to identify streets that didn't allow enough room to proper social distancing. To that end, starting the week of November 16, Acacia (between McAllister and Rosebank) will be temporarily closed to through traffic on school days during school start and end times (approximately 7:45-9am and 12:15 to 2pm). This closure will remain in place until health officials determine that social distancing is no longer required by students due to health risks. Note that residents on Acacia will be able to get in and out of their homes.
---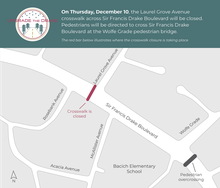 School Maps
The following maps show walking & biking options, park & walk options, carpool spots, and carline/parking maps for both Bacich and Kent:
Neighborhood Zones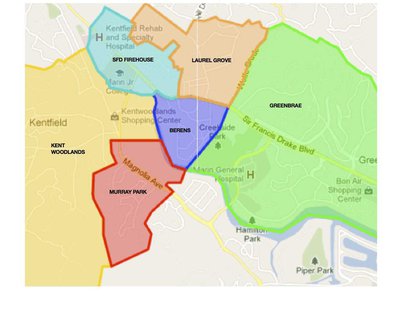 Please refer to this map to determine your school district neighborhood. Neighborhood Captains provide suggested safe route maps, schedules for walking and cycling to school, and carpooling options all customized by neighborhood. The Captains also advocate for traffic safety concerns on behalf of the families in your neighborhood.
Neighborhood Captains
Greenbrae Neighborhood Route Map
Silvia Reyes, suzzienicoll@gmail.com
Rob Tulipani, rob.tulipani@gmail.com
Bree Eaton, bree_eaton@yahoo.com
Laurel Grove Neighborhood Route Map
Amy Luisetti, amyluisetti@gmail.com
Lindsay Wilson, lindsaywilson@me.com
Kent Woodlands Neighborhood Route Map
Elizabeth Estes, estesatsf@yahoo.com
Teola Partain, teolayoung@gmail.com
Sara Barker, sararosebarker@gmail.com
Geoff Callan, geoff@yahoo.com
Murray Park Neighborhood Route Map
Amita Puri, amita_puri@hotmail.com
SFD Firehouse Neighborhood Route Map
Zack Macdonald, zack_macdonald@hotmail.com
Program Letters of Support from Marin County Supervisor Kate Rice, California Highway Patrol, and Marin County Safe Routes to School
Walking and Rolling to School Safety Tips
Driving to School Safety Tips
If you choose to drive your children to school, please keep the following 5 Traffic Safety Tips in mind:
Expect the unexpected. Children can dart out unexpectedly. Follow the speed limit, yield to crossing guards and be vigilant.
Drive slowly and carefully. Do not block sidewalks or driveways, and stop at all crosswalks. Be sure to look right before you turn right to ensure that a child is not crossing the street.
Don't text or talk on your phone while driving.
Budget extra travel time. School areas are congested, so allow for more time to get where you are going. The extra time will help avoid bouts of road rage and accidents.
Be a good role model. Help your children learn and practice the safety rules for walking, biking, or driving. Always buckle up in the car, wear a helmet when biking, and follow pedestrian safety rules.
We look forward to a safe and healthy school year and hope you will consider a "green travel" alternative (walking, biking, or carpooling) for transporting your child to school. By doing so, you will contribute to the health and safety of the entire school community as well as your own child(ren).
If you have any questions about the KSD Safe Routes to School Program, contact one of our Neighborhood Captains.