District Newsletter
April 4th, 2019
Don't Miss These Announcements
Upcoming Events
Friday, April 5, 2019
April 8-12, 2019: Spring Break
Monday, April 15, 2019
Tuesday, April 16, 2019
Wednesday, April 17, 2019
Thursday, April 18, 2019
Save the Date:
April 21-24, 2019: Fourth Grade Gold Country Trip
April 29-May 3, 2019 : Third Grade CAASPP Testing
Friday, May 3, 2019: Bacich Earth Day – volunteer here to help with lunchtime activities between 11:30 a.m.-1:30 p.m.
May 1, 2019: BLOOM hosted by KSPTA, 6:30-9 p.m., International Orange at Marin Country Mart
May 2, 2019: Second Annual Kent and Book Passage Event
District News
School Board
Regular Board Meeting: April 16, 2019, 5-7 p.m., District Office
The Agenda will be posted by 5 p.m. the Friday before the meeting.
District Committees
Budget 101 Presentation
English Language Learners
Bacich News
Bacich Library Update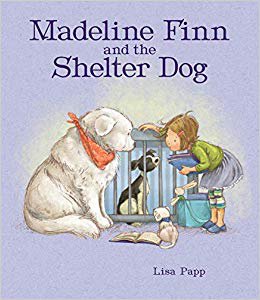 Author Visit – Monday, April 15, 2019
Author Lisa Papp will visit Bacich Elementary School to talk to students about her new book, Madeline Finn and the Shelter Dog.
Bacich Announcements
Bacich Open House – April 4, 2019, 6-7:30 p.m.
Earth Day – May 3, 2019 - please note date change
Fun, Earth friendly activities will be set up on the blacktop for students TK-fourth grade to enjoy during their lunch recess
Bacich Site Council
Next Meeting: May 6, 2019, 3-4 p.m., Bacich Library. All parents are welcome to attend.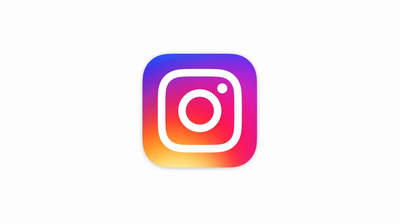 Follow Bacich on Instagram
Bacich Construction
Kent News
Kent Library Update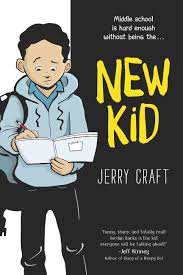 Project LIT Community: Kent Middle School Book Club
We encourage you all to read Jerry Craft's amazing graphic novel New Kid. Come to the library for a copy or borrow one from your language arts teacher. You may also borrow a copy from the public library.
Then, join us on April 25, 2019 at lunch in Room 24 (Mrs. Gallagher's room) to eat pizza and snacks and talk about the book.
Kent Announcements
Yearbook Are Now On Sale!
Save the date! May 2, 2019 – Second Annual Kent and Book Passage Event.
The evening will feature student performances including our Kent band, as well as summer reading recommendations and shopping to benefit our school! Hope to see you there!
Our Change for Change drive is in full swing!
Time to clean out those couches, coat pockets, and coin jars! We are collecting change, by house, to benefit the JFCS's Refugee Resettlement Program. This is a real world connection to our all school reading of Refugee by Alan Gratz to help refugees like Isabel, Josef, and Mahmoud right here in our own area. Refugees in the Bay Area need our help and the JFCS will help ensure that our change will help to change the lives of others. Collection jars are located in room 34. Thank you for helping to build a better world!
Together We Can!
Sign Up Here to participate in the new community service initiative.
Kent Site Council
Next Meeting: May 7, 2019, 3:30-4:30 p.m., Main Office Conference Room
All Kent parents are welcome to attend Site Council meetings. Please visit our Site Council page for meeting dates, agendas, and minutes.
8th Grade Announcements
High School Information
Kent Graduation Raffle
Tickets are being sold for the annual Kent Raffle to raise funds for 8th grade graduation. Through April 19, 2019, raffle tickets will be available for sale in each quad during morning recess! We will raffle off $500 cash, AirPods, Gotts gift certificate, a Guest Star spot on Wednesday Broadcast, and a one gallon candy jar! Tickets are $5 each or 5 for $20. The winners will be drawn on April 19, 2019.
How to Submit Photos for the 8th Grade Bacich Breakfast Video
Please submit an email with the names of all of the children in the photos in the subject line of your email and also in the email body text. Please send no more than 3 photos in the highest resolution possible to: 8thgraderphotos@gmail.com.
Photos are due April 15, 2019.
8th Grade Moms Event Fundraiser – April 18, 2019, 6:30 p.m.
Purchase raffle tickets at the event, or or via PayPal link – $10/ticket or 6 for $50.
Purchase Tickets for the Kids raffle
Tickets are on sale in both quads during morning recess – $5 each or 5 tickets for $20
Drawing on April 19, 2019
Visit the 8th Grade Graduation Website for New Information on
Submitting photos for the graduation slideshow
Graduation form
Graduation week events
Mom's night out
Kids and adults raffle
Safe Routes to School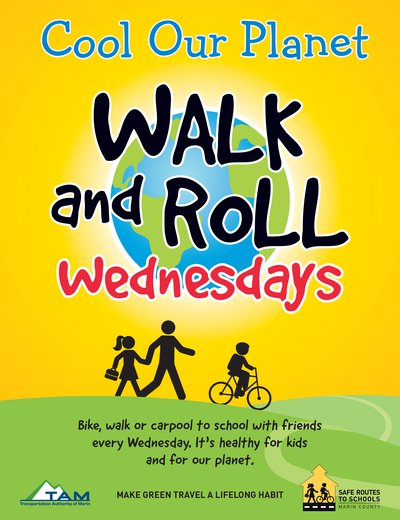 Upcoming Walk & Roll Wednesdays
April 17, 2019 and April 24, 2019
Visit Safe Routes to School for Walk & Roll information, safety tips in English and Spanish, neighborhood safe route maps, and public bus to Kent information.
kik News
kik Auction | Dinner | Dancing: Saturday, May 11, 2019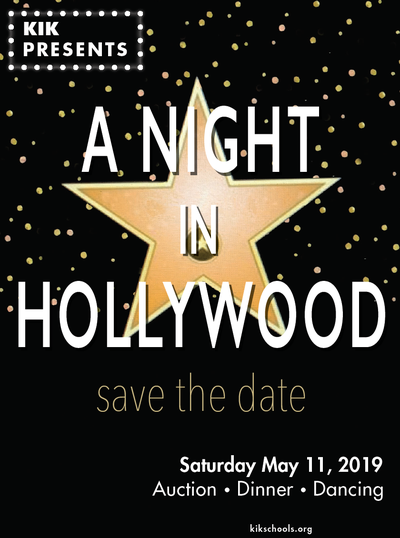 Sponsor The Auction
Tickets are now on sale for the A Night in Hollywood Spring Event on May 11, 2019! Join us for dinner, dancing, amazing live and silent auction items, and sign up parties!
Visit the kik website for more information: www.kikschools.org/ways-to-give/events/spring-event/
Any contribution at any level makes an impact on our schools.
Help us reach 100% participation for our schools.
KSPTA News
Next KSPTA Meeting: May 6, 2019, 8:30-10 a.m., Kent Library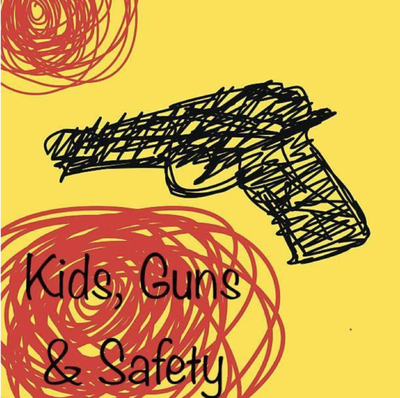 Parent Education Event: Kids, Guns, and Safety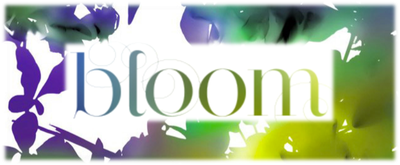 Save The Date
Wednesday, May 1, 2019 at International Orange at Marin Country Mart, 6:30-9 p.m. *please note new time
You are invited to an evening of music, massage, tasty treats, refreshments, and casual boutique shopping.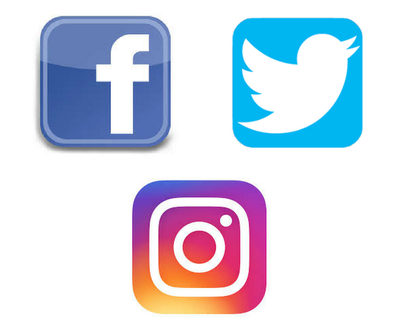 Community News
These programs are not sponsored by the Kentfield School District. Distributing flyers and information is a community service and does not imply endorsement.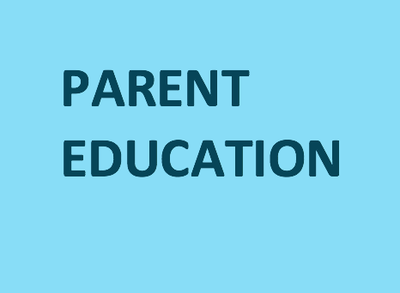 Parent Education Event: Just Say Know, Know the Facts about Drugs and Alcohol
April 16, 6:30-8 p.m., San Rafael High School Library
Join the San Rafael Parent Community for the final WeAreSR! Parent Education Event of the year. Know how to come to an agreement on a family drug and alcohol plan. The goal of this talk is to share accurate information about teenage substance use and misuse and tools to support a meaningful family conversation around this topic. Led by Marin-based Psychotherapist and Success Coach, Heather Johnson, LMFT.
Free to all parents and their teenage children. Presented in English with simultaneous translation to Spanish.
RSVP Here to Attend (information in English and Spanish)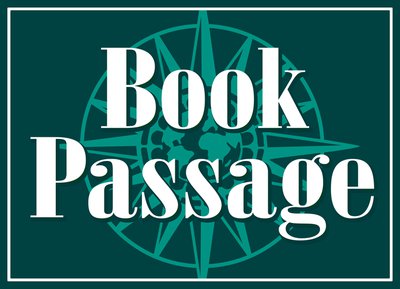 SchoolLink: Buy Books! Help Schools!
Shop at Book Passage, mention your school, and your school will receive a percentage of purchases back as a donation.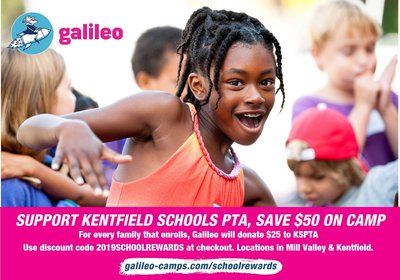 Camp Galileo is supporting Kentfield Schools PTA in April!
Camp Galileo is back at Kent June 24 through August 9, 2019. Throughout the month of April, Galileo will donate $25 to Kentfield Schools PTA for every family that enrolls at Camp Galileo (K-5 grades) or Galileo Summer Quest (5-8 grades at Edna Maguire, Mill Valley). Plus, you'll get $50 off camp with code 2019SCHOOLREWARDS. Be sure to enter Bacich Elementary or Kent Middle School as the school during checkout (in the camper info section). Have fun this summer and support our PTA! Learn more at galileo-camps.com or 800-854-3684.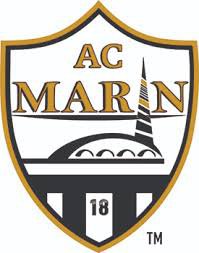 AC Marin Competitive Soccer Tryouts
Boys and girls born 2001-2013.
Tryouts April 24-27, 2019
Pre-registration required.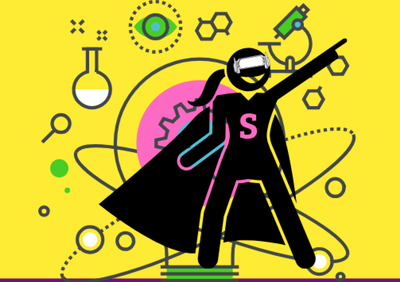 XR Super Girls: Free Empowerment Workshop
April 27, 2019 10 a.m.–12 p.m. at XR Marin in Novato
XR Super Girls: A Free Empowerment Workshop for female middle school, high school, college students, and beyond. Teachers are also welcome.
XR Super Girls is aimed to encourage female students to engage in academic and career pathways in STEAM, emerging tech, digital design, computer programming, immersive storytelling, new media, and entrepreneurship through the awesome potential of Extended Reality (XR): Virtual Reality, Augmented Reality, and 360-Video Immersive Storytelling.
Top women industry leaders and entrepreneurs in XR will inspire and lead small group mentoring and coaching sessions to help students and attendees identify their talents, dependable strengths, and unique "super powers" to bring to the new worlds of XR: Virtual Reality, Augmented Reality, and 360-Degree Immersive Narrative.
This event is free for students ages 13+ and $20 for attendees. Space is limited!
Register at https://www.xrmarin.net/industry-workshops.

Corte Madera Library Events: Kids' Book Club
Wednesday, April 24, 2019, 7-8 p.m., for grades 4 and up.
We are reading The Watsons Go to Birmingham by Christopher Paul Curtis.
Call 415-924-3515 to sign up and reserve a copy of the book!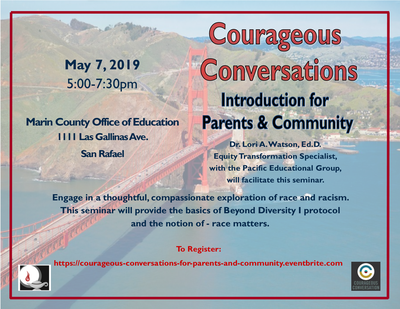 Parent Education Event: Courageous Conversations
May 7, 2019, 5-7:30 p.m., Marin County Office of Education, 1111 Las Gallinas Avenue, San Rafael
Engage in a thoughtful, compassionate exploration of race and racism led by Dr. Lori Watson, a transformation specialist with Pacific Education Group who has been working with educators across Marin's public and private schools to look intensely, both personally and professionally, at race, racism, and how we are educating all students.

Spanish language translation will be available during the meeting.