Kent News
Kent Library Update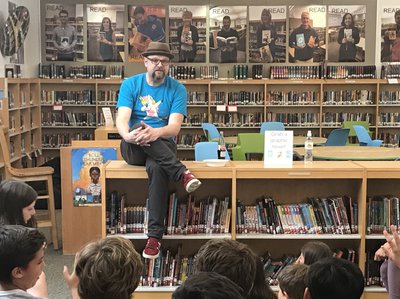 Author Visit
On Monday, after a year of planning, Kent welcomed Alan Gratz, author of Refugee, our All School Read. He was well worth the wait! Alan started the day with guest appearance on the Kent Falcon News, and continued the day with two engaging assemblies, book signing, lunch with the students who entered our essay contest, and some Q and A sessions with each grade level. He was filled with energy and enthusiasm, offering advice to young writers, and inspiring all of us to read his many books (all of which are available in the Kent Library).
I'd like to offer a huge thanks to the KSPTA for funding a generous grant to make this possible. We are already planning for our next All School Read – The Boy Who Harnessed the Wind (young reader's edition). Buy your copy at The Book Passage today (and don't forget to mention Kent) to be ready for next year!
Rebecca Jelen
Kent Librarian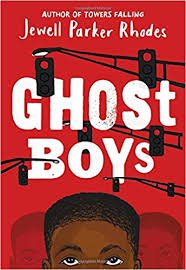 Pizza Lunch and Book Club
Grab a copy of Ghost Boys by Jewel Parker Rhodes from the library or your language arts teacher, then come to our event on May 21, 2019 at lunch in Room 24.
Kent Announcements
Together We Can!
Sign Up Here to participate in the new community service initiative
Family Movie Night Bolt – A 7th Grade TWC Community Service Fundraiser, RSVP here, view flyer
All Together We Can Service projects are open to everyone! For example, although the seventh grade has chosen to do a movie night for their project, all grades and community are welcome to come! The more the merrier at all events, Falcons!!
Kent School Site Council
Next Meeting: June 4, 2019, 3:30-4:30 p.m., Main Office Conference Room
All Kent parents are welcome to attend School Site Council meetings. Please visit our Site Council page for meeting dates, agendas, and minutes.
Site Council Election
Voting will start on Wednesday, May 22, 2019. An online ballot that will be emailed to you, or a paper ballot will be available starting Wednesday in the office.
8th Grade Announcements
All Graduation Forms are due Wednesday, May 22, 2019 to the Kent Office
Future Redwood High School Families
Would you like a way to be more connected to parents of your child's Freshman class? Redwood Parents Connect, a Redwood-specific parent-led community, would like to welcome you to join the community! Go to redwoodparentsconnect.com/2023 for more info! Parent groups are now forming for the incoming freshman class, and there is a closed Facebook group just for parents of Redwood's Class of 2023. Sign up now!