Kentfield School District
May 29th, 2020
School Closure Resources and Information
Congratulations to our phenomenal students who were honored yesterday afternoon for their acquisition of English as a second (or, for some, third) language. Find out more about this terrific celebration of outstanding effort in Sally Peck's letter this week.
Yesterday was also the debut of our incoming Superintendent, Raquel Rose, on my weekly office hours. Raquel shared a plan for getting ready to resume school in August in whatever configuration Public Health allows (listen to the recording here). We are so lucky to have Raquel to lead us in the return to school effort since she has been at the cutting edge of this planning in her job at the Marin County Office of Education.
Look for a message from the School Board on Monday with more details on both of these topics, as well as a reminder about how to throw your hat in the ring if you want to run for the School Board in November.
I hope you have an enjoyable weekend,
Liz Schott
Superintendent
---
Public Hearing and Budget LCAP 2020
Most books will be available for pick-up by Monday, June 8th.
15% of sales from the Kent Book Fair will support the Kent library.
Kent Graduation
We cordially invite all Kent Middle School students, families, staff, and community members to join us in celebrating our Kentfield School District graduating class of 8th graders on Friday, June 12th at 1 p.m. Details will be emailed soon.
2020-2021 Student Registration
If your TK-7th grade student WILL NOT BE RETURNING to Kentfield schools next year: please let Lisa Sandberg (Kent) at lsandberg@kentfieldschools.org or Lynn Bartha (Bacich) at lbartha@kentfieldschools.org know as soon as possible to help us with scheduling and staffing for the 2020-2021 school year.
If your student is currently enrolled in Kentfield schools and WILL BE RETURNING in the fall: you do not have to do anything to facilitate that automatic continuation process unless you have been contacted directly by your school. You will receive information about the data confirmation process in August.
Virtual Office Hours with Superintendent Liz Schott and Incoming Superintendent Raquel Rose, Bacich Principal Sally Peck, and Kent Principal Grant Althouse
Weekly on Thursdays from 4-5 p.m.
Families will receive an email, sent through Aeries, with the zoom webinar link and password.
School Board
Letters to the Community
May 8, 2020: Introduction of Superintendent finalist Raquel Rose.
May 7, 2020: Rescission of 2.5 layoff notices, update on Bacich class size, and gratitude during Teacher Appreciation Week.
Next Monthly Meeting: June 9, 2020, 5 p.m.
Families will receive the virtual meeting details before the meeting.
Nov 3, 2020 School Board Election
Marin County School Board elections are scheduled to be held on November 3, 2020 as part of the general election. The terms of School Board members Quoc Tran and David Riedel end in November. David has committed to run and Quoc remains undecided. Parties interested in learning more about running for one of the seats will find information on the Marin County Elections website. Note that there are county registration deadlines in the summer (July 13 - August 7) so it is not too early to start considering this option if you are interested.
If you want to learn more about the role of a School Board Trustee, please review the documents in the overview packet linked below that Superintendent Liz Schott and Board President Heather McPhail Sridharan presented during the May 19th Prospective Board Member Orientation. Please feel free to reach out to any current KSD Trustee or Superintendent Schott anytime with questions. We welcome all interest and involvement.

The Board of Trustees, Kentfield School District
School Board Information Overview Packet
Summer Camp Opportunities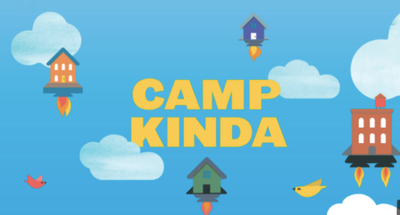 Free Virtual Summer Camp
Camp Kinda (Español Camp Kinda) is a virtual Summer Camp from some of the most innovative minds in online learning. Camp Kinda (Español Camp Kinda) will be available online for free to all families due to philanthropic support. It will provide approximately three to four hours of engaging free content per day to families around the country.
While nothing can replace the joys of an outdoor summer, Camp Kinda makes the best of what is possible: mixing fun and enriching activities, all of which are designed to put minimal strain on working parents.