District Newsletter
September 8th, 2020
Kentfield School District News
Dear Kentfield School Community,
I hope you enjoyed the Labor Day weekend – and kept as cool as possible during our Bay Area heat wave.
On Friday, August 28 the Governor announced the new Blueprint for a Safer Economy which offers a simplified four-tiered color coded system to monitor status of COVID-19 across the state. This system tracks the number of new cases per 100,000 people and positive test rates. The tiers are set up as follows: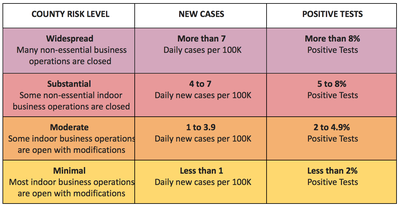 Marin has been on the Purple Tier (previous "watch List") for weeks and we had anticipated moving to the Red Tier today, but late last night the state delayed the transition. Marin Public Health announced today Marin County will remain in the Red Tier while the state conducts a further review. This news is disappointing for our community, but it also reminds us that our situation can shift quite quickly.
With the new Blueprint for a Safer Economy framework and rates in our County decreasing, I met with staff last week to discuss in-person options and how we may begin our gradual transition from full distance learning to offering some in-person instruction. We continue to prepare for this shift by finalizing our safety infrastructure – which includes items such as posting signage, determining outside learning spaces, physical distancing classrooms, and submitting our Site Specific Safety Plans to public health. A stakeholder survey will be distributed on Friday, September 11 to gather feedback on Distance Learning as well as solicit preference of hybrid models.
Let's continue to hold the vision that students will physically return to school to receive their education, we all know this is what is best for each of them, although we must trust the process and take the time to ensure we have set up the safest environment for our students and staff to thrive. Let's all continue to do our part and wear those masks, wash your hands and stay physically distanced...we are almost there!

Upcoming Events
Tuesday, September 8, 2020
Kent Site Council, 3:30-4:30 p.m.
School Board Meeting 5 p.m.

The meeting will be held virtually. All are welcome to attend. An email and text will be sent beforehand with the login instructions.
Friday, September 11, 2020
Stakeholder Survey will be distributed
Kent Student Leadership Board applications due to Ms. Stephens
Monday, September 14, 2020
School lunch pick up at Kent, 12-1:30 p.m.
Kent Falcon Fêtes optional destination lunch for 5th and 6th graders, 1:40-2:10 p.m.
Thursday, September 17, 2020
Kent Falcon Fêtes optional destination lunch for 7th and 8th graders, 1:40-2:10 p.m.
Finance Committee meeting, 3:30-4:30 p.m.

Meeting will be held virtually. The link and password will be sent via ParentSquare. Community members who are not current Kentfield families, should contact Kirsten Starsiak for the link and password.
Friday, September 18, 2020
First meeting of the Kent Student Leadership Board
Monday, September 28, 2020
Yom Kippur Holiday – No School
Wednesday, September 30, 2020
---
School Board
Next Monthly School Board Meeting: September 8, 2020, 5 p.m.

Families will receive the virtual meeting details before the meeting.
Don't Miss These Announcements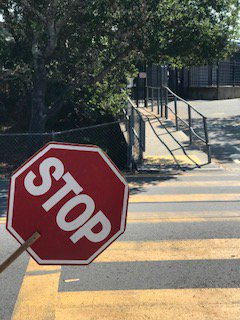 Virtual Crossing Guard
Are your mornings missing some pizzazz? Are you feeling blue because you can no longer walk to school? If so, have we got the thing for you!
Starting Monday, September 14th, Ms. Stephens will be holding a daily virtual crosswalk crossing from 7:55-8:30 a.m. Just sign into the Crosswalk Zoom link, and she will welcome a few of you at a time to cross a virtual McAllister together. Once you are ready to start your day, you will leave the crosswalk meeting and more kiddos will be welcomed to the session! So, mark your calendars, save this zoom link, and we will kick off our mornings together! Crosswalk Connections...is there anything better?!
Families will be sent the Zoom link and code through ParentSquare.
Public Health Announcements
---
Discover solutions and tips for technical issues. Submit a technical help request.
---
Free and Reduced Lunch Applications Available
Families need to re-apply for free and reduced-price lunches annually, even if you have been approved in the past. This year we will provide five school lunches in a box per week. You will pick up the box at Kent Middle School on Monday (or Tuesday if Monday is a holiday) between the hours of 12 and 1:30 p.m.
---
District Committee Solicitation
Kentfield School District maintains a variety of district wide committees, which include Communications, Equity, Finance, Safety, Technology, and Wellness. As we prepare to launch and/or reconvene our committees we welcome stakeholder participation to support diversified perspectives and interests.
If you would like to participate in any of our committees for the 2020-2021 school year please complete this form by September 30, 2020.
Bacich News
Bacich Yearbook
Many thanks to everyone who submitted first day/week of school photos! Every student has a story, and every story deserves to be told. When we look back in history, this will be the yearbook your student never forgets! Please continue to capture candid (not-posed) moments of your student of anything that happens in your home that connects back to our school (whether virtually or in-person), no matter how "boring" you think it might be!
Photos can be submitted to bacichyearbook2021@gmail.com. Please follow the instructions below when sending your photos.
The images must be .jpg, .png, or .tif files and must be at least 300ppi resolution.
Please provide the following information with each image:

FIRST NAME and LAST NAME for the main student featured in the image (or the left-most person).
Grade of student(s) in photo.
Description.
Additional names separated by commas.
We'll do our best to include as many as possible. Thank you in advance!
Kent News