Kentfield School District News
Dear Kentfield School Community,
I hope you enjoyed the Labor Day weekend – and kept as cool as possible during our Bay Area heat wave.
On Friday, August 28 the Governor announced the new Blueprint for a Safer Economy which offers a simplified four-tiered color coded system to monitor status of COVID-19 across the state. This system tracks the number of new cases per 100,000 people and positive test rates. The tiers are set up as follows: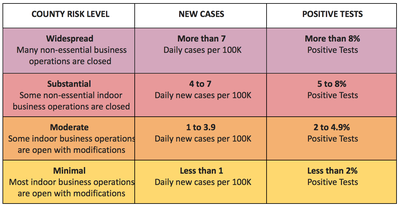 Marin has been on the Purple Tier (previous "watch List") for weeks and we had anticipated moving to the Red Tier today, but late last night the state delayed the transition. Marin Public Health announced today Marin County will remain in the Red Tier while the state conducts a further review. This news is disappointing for our community, but it also reminds us that our situation can shift quite quickly.
With the new Blueprint for a Safer Economy framework and rates in our County decreasing, I met with staff last week to discuss in-person options and how we may begin our gradual transition from full distance learning to offering some in-person instruction. We continue to prepare for this shift by finalizing our safety infrastructure – which includes items such as posting signage, determining outside learning spaces, physical distancing classrooms, and submitting our Site Specific Safety Plans to public health. A stakeholder survey will be distributed on Friday, September 11 to gather feedback on Distance Learning as well as solicit preference of hybrid models.
Let's continue to hold the vision that students will physically return to school to receive their education, we all know this is what is best for each of them, although we must trust the process and take the time to ensure we have set up the safest environment for our students and staff to thrive. Let's all continue to do our part and wear those masks, wash your hands and stay physically distanced...we are almost there!

Upcoming Events
Tuesday, September 8, 2020
Kent Site Council, 3:30-4:30 p.m.
School Board Meeting 5 p.m.

The meeting will be held virtually. All are welcome to attend. An email and text will be sent beforehand with the login instructions.
Friday, September 11, 2020
Stakeholder Survey will be distributed
Kent Student Leadership Board applications due to Ms. Stephens
Monday, September 14, 2020
School lunch pick up at Kent, 12-1:30 p.m.
Kent Falcon Fêtes optional destination lunch for 5th and 6th graders, 1:40-2:10 p.m.
Thursday, September 17, 2020
Kent Falcon Fêtes optional destination lunch for 7th and 8th graders, 1:40-2:10 p.m.
Finance Committee meeting, 3:30-4:30 p.m.

Meeting will be held virtually. The link and password will be sent via ParentSquare. Community members who are not current Kentfield families, should contact Kirsten Starsiak for the link and password.
Friday, September 18, 2020
First meeting of the Kent Student Leadership Board
Monday, September 28, 2020
Yom Kippur Holiday – No School
Wednesday, September 30, 2020
---
School Board
Next Monthly School Board Meeting: September 8, 2020, 5 p.m.

Families will receive the virtual meeting details before the meeting.