District Newsletter
October 12th, 2020
Kentfield School District News
Dear Kentfield School Community,
In an effort to continue moving forward with offering our students in-person instruction, the KSD has identified November 2, 2020 as the date to transition to Hybrid Instruction. On September 16th, the District received confirmation from Marin County Public Health that the 30-point plan outlining safety requirements for Bacich and Kent to operate in-person instruction had been reached. The District has met the terms of the Memorandum of Understanding (MOU), and is working with staff to demonstrate how the conditions have been reached. Over these next few weeks we will continue to work collaboratively with our teachers and staff to fully prepare our campuses for a phased implementation of Hybrid Instruction.
Pilot Hybrid Instruction
The pilot Hybrid Instruction program operating right now at both sites will continue through the end of this week. Beginning Friday, administrators and teachers will engage in a debriefing discussion to make adjustments in order to offer the most optimal Hybrid Instructional program. We recognize there are many questions about the hybrid design, and we are committed to continue to evaluate its effectiveness as we pilot the approach and plan for full implementation. We have time between now and November 2nd to make design adjustments, but in the meantime please work with us to prepare for a transition to Hybrid Instruction.
Intent to Participate - Due October 21, 2020 by 5 p.m. (new extended date)
At this time, we ask parents/guardians to complete an intent to participate form, which is posted in ParentSquare. Parents/guardians will have the option to choose KSD's Hybrid Instructional program or Distance Learning only program. Below are details about each approach that may help families determine which program is best for their child/ren. If you choose a Distance Learning only program, this will be a commitment for the remainder of the school year (June 2021), with the option to return to hybrid if space is available. Please submit your preference by Wednesday, Oct. 21 at 5pm. If we do not hear back from you we will count on your student/s participating in the Hybrid Program. Based on the data received we may need to adjust class assignments, but will do this with as minimal disruption as possible.
Marin Tier II Status: Allows In-Person Instruction in Schools
Although we continue to be faced with the challenges of COVID-19, Marin's Tier II - Red status allows schools in our county to open for in-person instruction and we know that is what is best for our students. We have negotiated with our staff in good faith and have worked diligently to provide the safest environment for our school community. In order for us to take this next step we must work together. It is imperative that we continue to model wearing face coverings, practicing regular hand hygiene, maintaining physical distancing and avoiding congregating in large groups. Taking these necessary steps will support our District in providing in-person learning opportunities for our children!
Take Good Care,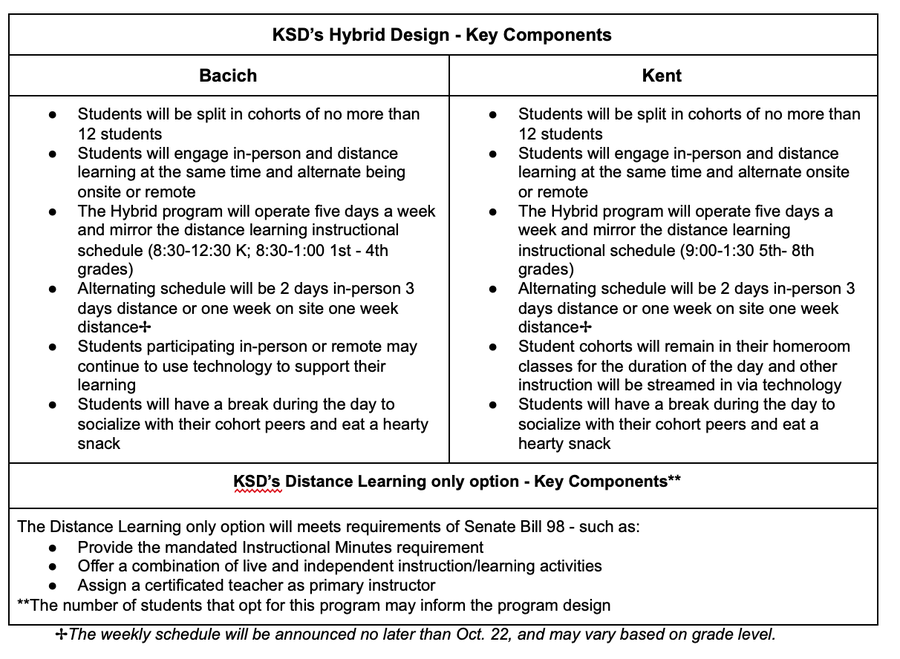 Hybrid Transition Timeline
October 12, 2020
Parent/Guardian SSSPP Webinar Orientations (5-6pm)
Bacich SSSPP and Kent SSSPP
A recording will be posted on the District's website.
October 13, 2020
Regular Meeting of the Board of Trustees
October 14, 2020
COVID-19 Testing at Kent Middle School
October 15, 2020
5-6:00 p.m.
KSD Community Conversation with Local Physicians
- A Perspective of In-Person Instruction in a COVID-19 Environment
Submit your questions in English or Spanish
October 16, 2020
Non-Student Day - Staff Work Day
Week of October 19, 2020
Expand Pilot Program
Tentative Site Tours (live or virtual) - Staff/Parents/Guardians
October 21, 2020
Intent to Participate Form DUE
KSD Hybrid or Distance Learning Only Form will be posted in ParentSquare
October 22, 2020
- On or before date
Announce KSD weekly Hybrid Schedule
Week of October 26, 2020
- On or before date
Announce Hybrid Cohort Assignments
Tentative Site Tours (live or virtual) - Staff/Parents/Guardians
November 2, 2020*
Phase Hybrid Transition
Bacich Grades K-2: Cohort A on-site; Cohort B remote
Kent Grades 5-6: Cohort A on-site; Cohort B remote
November 9, 2020*
Phase Hybrid Transition
Bacich Grades K-2: Cohort A remote; Cohort B on-site
Bacich Grades 3-4: Cohort A on-site; Cohort B remote
Kent Grades 5-6: Cohort A remote; Cohort B on-site
Kent Grades 7-8: Cohort A on-site; Cohort B remote
November 11, 2020
Veteran's Day Holiday – No School
*Dates subject to adjustment.
Upcoming Events
*For security, Zoom links and passwords for events are not posted on the District website, and are sent through ParentSquare.
Daily: Virtual Crossing Guard with Ms. Stephens, 7:55-8:30 a.m., Zoom
Monday, October 12, 2020
Parent/Guardian SSSPP Orientation, 5-6 p.m.
Tuesday, October 13, 2020
School Board meeting, 5 p.m., Zoom. All are welcome to attend.
Wednesday, October 14, 2020
Intent to Participate in Hybrid Learning due by 5pm

Details in the Superintendent letter and survey will be sent via ParentSquare.

KIK Board meeting, 7:30-9 p.m., Zoom
Thursday, October 15, 2020
Kent Student Leadership Board meeting, 8:25-8:55 a.m., Zoom
Kent Author Visit for 5th & 6th graders, 12:20 p.m., Zoom
KSD Community Conversation with Local Physicians - A Perspective of In-Person Instruction in a COVID-19 Environment, 5-6 p.m., Zoom
Friday, October 16, 2020
Staff Professional Development Day – No School
Monday, October 19, 2020
Tuesday, October 20, 2002
KSD DELAC Community Conversation - A Perspective of In-Person Instruction in a COVID-19 DELAC, 7 p.m.
Parent Partners meeting, 4-5 p.m., Zoom
Thursday, October 22, 2020
Community Office Hours, tentative
---
District Announcements
School Board
Next Monthly School Board meeting: October 13, 2020, 5 p.m., All are welcome and encouraged to attend.
Bacich News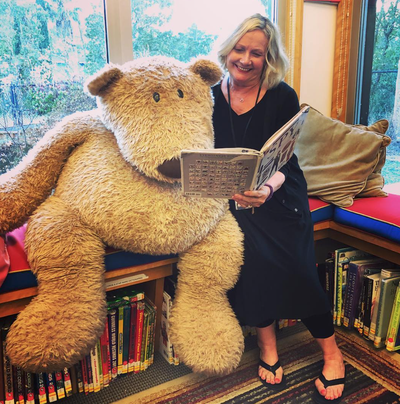 Check Out Books with the Bacich Library
If you would like to check out library books, please email me the titles you want. I will check them out to you and place them in plastic bags with your names on them on a cart. They will be available for pickup every Friday curbside in front of the office. See the library blog for instructions on how to access the Alexandria Library Catalog (to look for books). You can also return books every Friday as well. There will be a plastic bin labeled, "Return Bacich Library Books Here" in front of the office for your convenience. That way I can keep the books in the bin for the weekend and check them in during the week for safety purposes.
When families purchase books from Book Passage, please remember to mention your school at check out or in the comments field if ordering online. This will assure that our school will receive a portion of the purchase in the form of a bookstore gift certificate.
Thank you!!
Ms. Warnick
swarnick@kentfieldschools.org
---
Bacich Yearbook
Photos can be submitted to bacichyearbook2021@gmail.com. Please follow the instructions below when sending your photos.
The images must be .jpg, .png, or .tif files and must be at least 300ppi resolution.
Please provide the following information with each image:

FIRST NAME and LAST NAME for the main student featured in the image (or the left-most person).
Grade of student(s) in photo.
Description.
Additional names separated by commas.
Kent News
Kent Counselors Wellness Hub: Many of us in our community are navigating very challenging times right now and as the Counselors at Kent Middle School, we want you to know that we are here for you. We created this hub so you can easily access resources.
After an amazing author visit with Torrey Maldonado last week, his Thursday, 5th and 6th graders will have an opportunity to meet with him! Last week he talked about many things, and 7th and 8th graders were on the edge of their seats as he talked about his writing process, his characters and his own struggle with reading. One of his most important messages was to "write what you know", and I can't wait for 5th and 6th graders to meet him! You can check out his books Tight and What Lane from the Kent Library!
Born a Crime Book Club, Thursday, October 29th at 1:45 p.m.
If you would like to borrow a copy of the book, please email Ms. Jelen at rjelen@kentfieldschools.org. If you have already emailed me about it, your book will be ready to pick up on Monday after school on the cart outside the office.
Curbside Book Pick Up and Book Bags
Students may email Ms. Jelen the titles of books that they would like to read, and the book will left on a cart in front of the gate for them to pick up.
Thanks to the donations of many Falcons and their families, we have book bags for every grade level to pick up and enjoy! You will find these bags in boxes marked by grade level in front of the Kent office. Feel free to read, keep or pass on your books OR donate them right back to the book drive for another life!
Got Books?? If you are cleaning out your bookshelves, bring them to Kent for our Book Drive! We have lots of wonderful grade level bags just waiting for you to exchange your old books for! You can drop them off by the mural near the parking lot!
Happy reading,
Rebecca Jelen
Kent Librarian
rjelen@kentfieldschools.org