District Newsletter
October 26th, 2020
Kentfield School District News
Dear Kentfield School Community,
We continue to make strides in preparing our school sites for a transition to Hybrid instruction with a target of early November. Over the weekend we completed all the outside directionality and markings for physical distancing and our classrooms continue to be stocked with essential protective equipment as well as student learning stations physically distanced for instruction. To get a glimpse into the transformation of our school sites and classrooms click here.
On Tuesday, we will be touring schools with KTA negotiators and sharing additional procedures to demonstrate our preparedness for students and staff on campus. At the principal chats you will receive an update about the hybrid model, our weekly schedule and what a day may look like for a Bacich Bear or Kent Falcon during Hybrid instruction. Additional community updates about the transition will be provided on Thursday, Oct. 29 via ParentSquare.
As we head into the final week of October, we are reminded of the Halloween traditions our children and families look forward to during this season. We urge our community to continue to be vigilant and follow Marin County Public Health guidelines during this festive season. It is so important now more than ever that we join together as a community in doing our part as individuals to keep everyone safe in order to maintain the conditions necessary to offer site based instruction.
In closing, I want to take a moment to acknowledge the feedback received from various stakeholders, including parents/guardians, staff and students. As we reimagine school in our COVID-19 environment, our team of teachers, counselors, administrators and support staff are the same dedicated and hardworking educators our community has trusted to represent the acclaimed Kentfield School District. We know we will continue to work in partnership as we maintain our collective commitment to providing our students a safe and high quality learning environment where they can thrive.

Hybrid Instruction Transition Timeline
October 21-25, 2020
Outside directionality and markings staged and painted at both school sites
Internal classrooms set up with desks physically distanced and floor markings
Monday, October 26, 2020
Administrative walk through of sites
Tuesday, October 27, 2020
KTA and KSD walkthrough of both school sites
School Site Principal Chats via Zoom Webinar

4 p.m. Kent
6 p.m. Bacich
7 p.m. DELAC SSSPP Orientation
October 28, 2020
KSD-KTA Negotiations Session
October 29, 2020
District Communication Update via ParentSquare
Parent Handbook Recording Released
Upcoming Events
*For security, Zoom links and passwords for events are not posted on the District website, and are sent through ParentSquare.
Daily: Virtual Crossing Guard with Ms. Stephens, 7:55-8:30 a.m., Zoom
Tuesday, October 27, 2020
Kent Principal Chat, 4 p.m., Zoom
Bacich Principal Chat, 6 p.m., Zoom
DELAC SSSPP Orientation, 7 p.m., Zoom
Monday, November 2, 2020
Tuesday, November 3, 2020
Tuesday, November 10, 2020
Wednesday, November 11, 2020
Monday, November 16, 2020
---
District Announcements

Marin Health and Human Services website – Marin Recovers provides access to a breadth of resources to help the community stay up to date with the status of COVID-19 in our county. The website offers access to local case rate through the Novel Coronavirus (COVID-19) Surveillance Update website that provides summary data, daily trends, demographics, other measures of COVID-19 Impacts and the State Blueprint Tiered system.

Special THANK YOU to Kentfield Teachers Association for hosting the "Cans for Candy" event where up to 100 bags were filled with food to share with our community! Such a great opportunity for our team to highlight their Hallloween spirit and come together to support members of our school family!
---
Community Service Project: Raising Awareness
Book Donation to support Virtual Author's Visit
Would you like to help spread the message of acceptance?
Please consider donating a copy of Michael Tyler's picture book: The Skin You Live In
Drop off your book donation at the Bacich office by Dec. 2, 2020.
Bacich students will have the opportunity to attend a school wide webinar on Dec. 3, 2020 with the author Michael Tyler. Students will create bookmarks to be delivered along with the donated books to underfunded schools in our community and the bay area.
Thank you for your help and support!
The Bacich Social Justice Team

Over the weekend and into the week, members of our school community may continue to experience Public Safety Power Shutoffs (PSPS) by PG&E. Whether Distance Learning or in Hybrid instruction we will follow the guidelines of our local public agencies and attempt to minimize school closures to the greatest extent possible.
Site principals are ready to provide guidance for your student/s if you have a power outage and school is in session. Below is how the District intends to respond to these PSPS events as they occur in our County.
Regarding power outages in the Kentfield School District when Distance Learning:
If there is a confirmed power shutdown scheduled for a subsequent school day at one or both schools, the District will close both schools and communicate the closures as soon as possible.
If power is turned off for either school site while school is in Distance Learning, instruction will conclude for the remainder of the academic day
If power is restored prior to 5:00 a.m. on a school day when a closure has been announced the day before, the District will open the schools and communicate that news as soon as possible.
All information related to school closures and reopening will be posted to our District and school websites, and will be communicated through ParentSquare and direct feed.
If one school is scheduled not to have power, both schools will be closed.
If school is in session, but a KSD family has a PSPS power outage please contact your site administrator for guidance regarding your child's learning for the day.
Alerts Page: This link can provide information specific to our area. Scroll down the page and choose Marin (at the county selection button) as it provides specific information on many areas of Marin. You can also enter a specific address on the landing page.
Map Site: This map allows you to focus on specific streets and neighborhoods. Be patient as you enlarge as it takes a few moments to load. It provides information on streets that are in the potential shutdown area.
School Board & District Committees
Next Monthly School Board meeting: November 10, 2020, 5 p.m., All are welcome and encouraged to attend.
Bacich News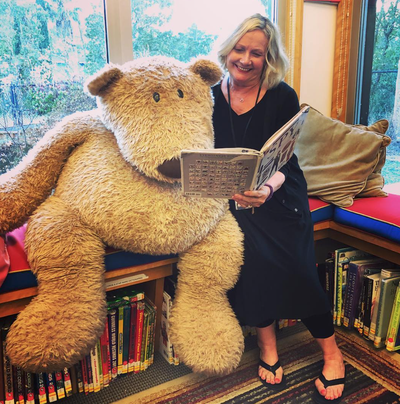 Check Out Books with the Bacich Library
If you would like to check out library books, please email me the titles you want. I will check them out to you and place them in plastic bags with your names on them on a cart. They will be available for pickup every Friday curbside in front of the office. See the library blog for instructions on how to access the Alexandria Library Catalog (to look for books). You can also return books every Friday as well. There will be a plastic bin labeled, "Return Bacich Library Books Here" in front of the office for your convenience. That way I can keep the books in the bin for the weekend and check them in during the week for safety purposes.
Thank you!!
Ms. Warnick
swarnick@kentfieldschools.org
---
Bacich Yearbook
Photos can be submitted to bacichyearbook2021@gmail.com. Please follow the instructions below when sending your photos.
The images must be .jpg, .png, or .tif files and must be at least 300ppi resolution.
Please provide the following information with each image:

FIRST NAME and LAST NAME for the main student featured in the image (or the left-most person).
Grade of student(s) in photo.
Description.
Additional names separated by commas.
Kent News
Kent Counselors Wellness Hub: Many of us in our community are navigating very challenging times right now and as the Counselors at Kent Middle School, we want you to know that we are here for you. We created this hub so you can easily access resources.
Born a Crime Book Club, Thursday, October 29th at 1:45 p.m.
If you would like to borrow a copy of the book, please email Ms. Jelen at rjelen@kentfieldschools.org. If you have already emailed me about it, your book will be ready to pick up on Monday after school on the cart outside the office.
Curbside Book Pick Up and Book Bags
Students may email Ms. Jelen the titles of books that they would like to read, and the book will left on a cart in front of the gate for them to pick up.
Thanks to the donations of many Falcons and their families, we have book bags for every grade level to pick up and enjoy! You will find these bags in boxes marked by grade level in front of the Kent office. Feel free to read, keep or pass on your books OR donate them right back to the book drive for another life!
Got Books?? If you are cleaning out your bookshelves, bring them to Kent for our Book Drive! We have lots of wonderful grade level bags just waiting for you to exchange your old books for! You can drop them off by the mural near the parking lot!
Happy reading,
Rebecca Jelen
Kent Librarian
rjelen@kentfieldschools.org
KIK News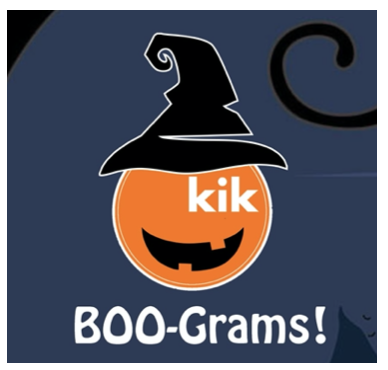 KIK BOO-GRAMS: SOLD OUT!
Thank you to everyone who purchased the KIK Halloween Boo-Grams–our promotion has been so successful that we are now sold out. Thank you to our KIK Board for donating candy and volunteering to assemble and deliver the Boo-Grams. The money we raised for this promotion will help fund vital resources and programs at our schools.
Boo-Grams will be delivered starting today through Halloween, we hope it brings joy to the children and teachers in our community.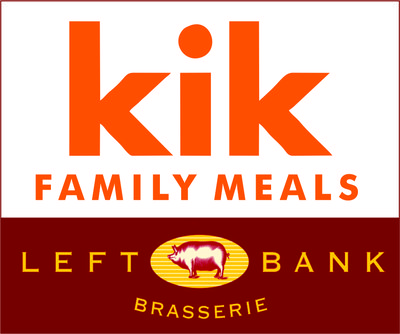 TUES 10/27 - KIK FAMILY MEALS WITH LEFT BANK, 20% TO KIK
Every Tuesday Left Bank will create a special family dinner for $50 and donate 20% back to KIK. Order early before it sells out!
Oct 27: $60 meal: Beef bourguignon with mashed potatoes, acme bread and butter, broccoli
Nov 3: Fried chicken, mac and cheese, brussel sprouts, green salad
Order online and select "KIK Family Meal".
The menu for November is posted on our website.
Follow us on Facebook & Instagram for updates on menus and reminders.
For any questions, please email events@kikschools.org.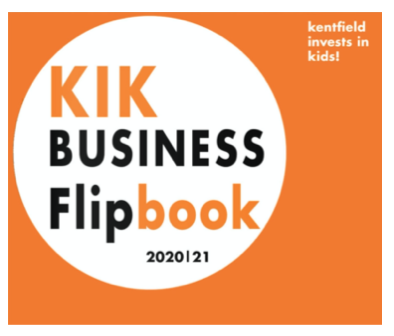 INTRODUCING KIK PARTNERS FLIPBOOK DIRECTORY!
We're excited to share the new KIK Business Partners Flipbook—an e-directory showcasing the local businesses that support our Bacich and Kent schools through KIK.
Check out the KIK Flipbook when looking for a market or restaurant, real estate, service, or retail business. Simply click on a business recognition ad to get directly to its website. Please support local businesses that support our kids!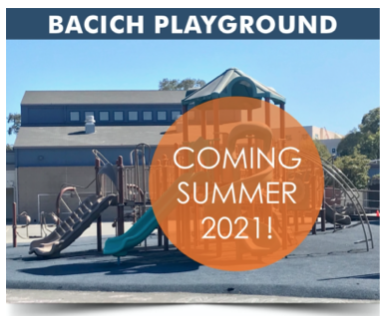 BACICH PLAYGROUND UPDATE
KIK and KSD have secured the remainder of the funds and nailed down a timeline for construction of the new Bacich Playground. Thank you to our community for patiently awaiting the status of the project!