KIK News

DON'T FORGET YOUR TAX DEDUCTION — DONATE TO KIK BY DEC. 31!
December 31st is fast approaching! Make your Family Giving donation in time for tax benefits! Family Giving donations directly support educational opportunities and programs benefiting all Bacich and Kent students.
Donate online or print and mail in your donation today.
E-BIKE DONOR CHALLENGE — ENDS DEC. 31
Power up your Family Giving with the KIK E-Bike Donor Challenge!
Every family that donates at the Family Giving Ask through December 31, 2020, will be entered into a drawing for a Stromer ST1 Sport e-bike generously sponsored by Amanda Mulholland Real Estate and Marin Service Course.
The Stromer ST1 is the ultimate in commuting e-bikes. Made in Switzerland, this e-bike combines quality craftsmanship, cutting edge engineering and app-based software. Retail value is $4200.
Drawing Eligibility: Donate "The Family Ask" ($1800 per child) through December 31, 2020. You'll be entered into the e-bike drawing held on January 11th, 2021. Questions? Email familygiving@kikschools.org.
All donors who have already contributed at the Family Giving Ask will be automatically entered. Already donated and want to "power up" to the Family Giving Ask? We welcome your additional donation by December 31, 2020 and you'll be entered into drawing. Thank you!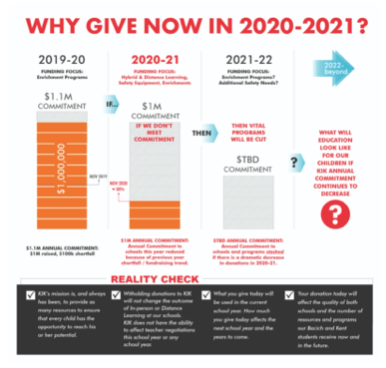 WHY GIVE NOW IN 2020-21?
There are short-term and, most importantly, long term effects of falling short of our Annual Commitment to our Bacich and Kent schools. Learn more about Why Give Now?
Missing the mark on Family Giving goals means our children missing out on opportunities that well-funded schools provide and that KSD kids have benefitted from in the 41-year history of KIK.
It's been a challenging 2020—Family Giving donations are down -29%.
Let's secure our children's quality education now and for years to come. Help close the gap by donating today!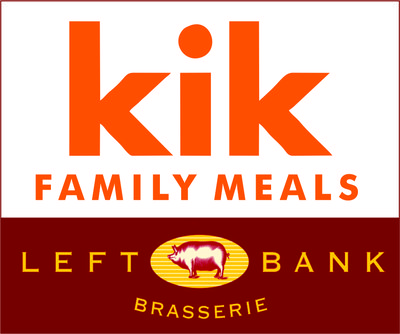 TUES 12/15 - 12/29 KIK FAMILY MEALS WITH LEFT BANK, 20% TO KIK
Every Tuesday Left Bank will create a special family dinner for $50 and donate 20% back to KIK. Order now for pickup on Tuesday. Now, more than ever, restaurants need our support! You can support Left Bank and our schools each week.
Check out our website for an exciting new promotion with Left Bank!
Want to get a weekly email reminder to order? Opt in here!
Dec 15: Roast chicken, mac & cheese, salad verte, green beans
Dec 22: Beef Bourguignon, mashed potatoes, brussel sprouts, salad verte
Dec 29: Fried chicken, mac & cheese, brussel sprouts, salad verte
Order online and select "KIK Family Meal." The December menu is posted on our website. Thank you!
Follow us on Facebook & Instagram for updates on menus and reminders.
Questions? Email events@kikschools.org.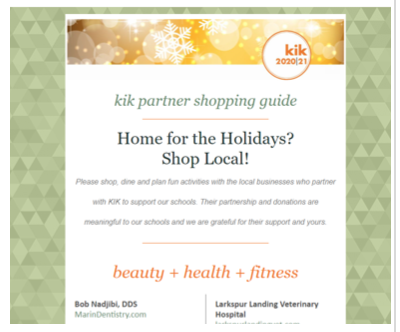 HOME FOR THE HOLIDAYS? Shop KIK Local Business Partners
Please shop, dine and plan fun activities with the local businesses who partner with KIK to support our schools. Their partnership and donations are meaningful to our schools and we are grateful for their support and yours.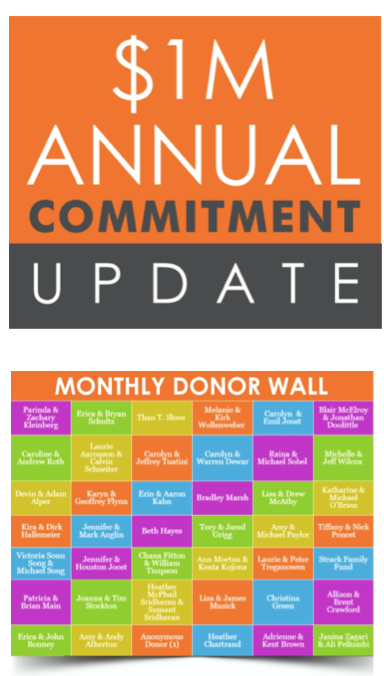 ANNUAL COMMITMENT REPORT
KIK raises dollars toward the $1M Annual Commitment to help fund our Bacich and Kent schools. Various fundraising initiatives combine to fill this commitment to our students and schools including Family Giving, Spring Auction Event, and Partners for Education.
Get details on the $1M Annual Commitment.
ANNUAL COMMITMENT Fundraising Status : $413,639 / $1M GOAL
THANK YOU, 2020-21 DONORS!