District Newsletter
March 29th, 2021
Kentfield School District News
Dear KSD Community,
As we close out the month of March I want to highlight some of what has been accomplished around our schools over the last number of weeks.
Women's history month was celebrated through highlighting the contributions of women in history and contemporary society. Vaccination opportunities availed themselves to our staff to add an extra layer of protection and security. We expanded in-person learning opportunities for our KSD school community and launched a distance learning only pathway for targeted families. And, over 100 parents volunteered to support supervision activities across both school sites.
These highlights are just some of the magic that makes the KSD so special. I look forward to the weeks ahead where more magic will be made as we move through the final months of this school year.
Take good care,

District Announcements
REMINDER – Quarantine After Spring Break (April 5-9)
Please reference the Public Health Decision Tree (Tier III - Orange) to determine medical quarantine following the Spring Break Recess. Thank you to those families who have already submitted this form which will assist the KSD in planning for your child's program during quarantine. We request families submit their form by Tuesday, March 30th. Please contact KSD School Nurse, Laurel Yrun at lyrun@kentfieldschools.org with any questions related to quarantine and/or public health guidance.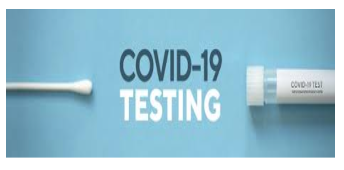 KSD & Marin County COVID-19 Resources, & Testing Opportunities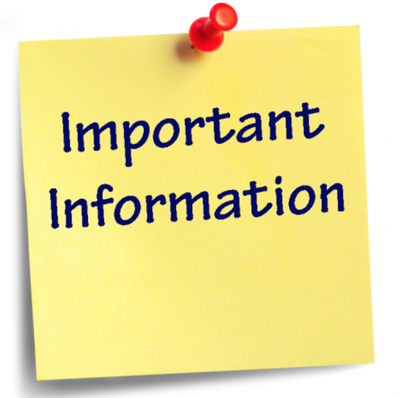 COVID-19 Decision Tree Guidance - English & Spanish Version
Know when to stay home and what to do when you or your family don't feel well or have engaged in what is categorized as a high-risk activity (e.g., any mixing of households, non-essential travel).
Upcoming Events
*For security, Zoom links and passwords for events are not posted on the District website, and are sent through ParentSquare.
Daily: Virtual Crossing Guard with Ms. Stephens, 7:55-8:30 a.m., Zoom
Monday, March 29, 2021
March 30, 2021
April 5-9, 2021: Spring Break
Monday, April 12, 2021
Resume KSD Full In-Person Instruction Districtwide
KSPTA meeting, 7-8:30 p.m.
Tuesday, April 13, 2021
Wednesday, April 14, 2021
Friday, April 16, 2021
Kent Principal Chat, 9:15 a.m.
Tuesday, April 20, 2021
Wednesday, April 21, 2021
Monday, April 26, 2021
Bacich Site Council meeting, 3-4 p.m.
---
School Board & District Committees
Safe Routes to School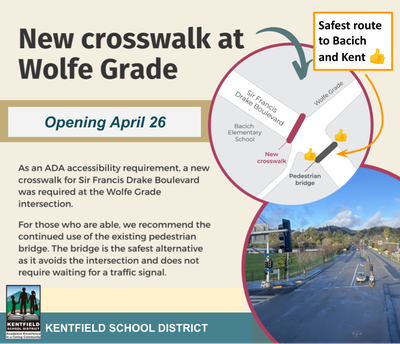 Wolfe Grade Crosswalk Activation Postponed
The new crosswalk being installed at the intersection of Wolfe Grade and Sir Francis Drake was scheduled to be ready for use on March 12. However, because of some unexpected issues needing to be resolved, there will be a delay in its activation. We will share details about the new opening date for the crosswalk as soon as we have more information.
If you have questions regarding this recommended route to school, feel to contact Tanya Vernitsky, Safe Routes to Schools representative, at tanya.vernitsky@gmail.com. Also, this is a link to neighborhood route maps from Safe Routes to Schools. Thank you!
Learn how to get to school safely with these tips for Hybrid Instruction. (English | Spanish)
Bacich News
As we continue to adjust to our new normal — please see the below reminders to help create a more efficient arrival and dismissal time.
First and foremost, please remember that there will always be a car line, and it will always be a time commitment. However, some Covid safety requirements have slowed things down even more. Your patience and kind, neighborly behavior with your fellow Bacich community members also goes a long way!
Arrival:
Please do not get out of your car. We will help your student if they need help with their backpack or the door. If you need extra help, please wait until you can pull up to the front of the line so you won't be holding up traffic.
Please complete the online health screening no later than 7:45 a.m. This is when we run our reports of who has NOT filled it out and print these rosters for the folks at the gates. If the list is short, students get in faster!
Dismissal:
Please leave the handicap parking spaces available for the families who need them.
Please pull all the way forward into the #1 zone so that we can load 4 students at a time, in all four zones.
Please have your student's name and grade displayed in dark marker on the placard or a piece of paper in your window. It really makes a difference when we can call out your child's name as soon as we see it in the window.
Thank you for driving safely around the busses and leaving the crosswalk open so that pedestrians can cross the road safely.
---
Bacich Library
Did March come in like a lion?" Discover Bacich Librarian Susan Warnick's March book selections, plus fun activities on the Bacich Library Blog!
Bacich Library Check Out and Curbside Pick Up
When we return to full in-person learning, the checkout will remain the same. Order by emailing me. Some books may be able to be delivered to the classrooms, and the others will still pick up their orders on Friday. Ms. Warnick will let you know.
Please email the titles you want to check out to Librarian Ms. Warnick (swarnick@kentfieldschools.org).
Curbside pick up available every Friday in front of the Bacich Office.
The books will be placed in plastic bags with your names on them on a cart.
See the library blog for instructions on how to access the Alexandria Library Catalog to look for books.
Please return books on Friday in the red plastic bin labeled, "Return Bacich Library Books Here" in front of the office.
---
Order Bacich Yearbooks
Our parent volunteers are hard at work to create a lovely keepsake to capture the highlights of this most unusual and history-making year. Don't miss out — order today!
This year we are trying Josten's sales site, but the KSPTA will distribute the yearbooks at the end of the year as always!
Kent News
Kent School Lunch Now Available
KSPTA is partnering with SchoolFoodies to offer fresh, nutritious school lunches that kids love!
You can place orders for a day, week, or month at a time. The deadline to order is by 9 a.m. three days in advance.
Click on the flyer below in English or Spanish for more details.
---
Kent Counselors Wellness Hub: Easily access resources to help navigate this challenging time. The Counselors at Kent Middle School are here for you!
---
Kent Principal Chats: April 16; May 14; 9:15 a.m.
*Zoom link will be emailed via ParentSquare.
---
Kent Library News
Books To Go!
If you need a new book just email me, Mrs. Jelen at rjelen@kentfieldschools.org. If you have books at your house you need to return, you can bring them to the same cart where you pick up books – right outside the Kent gate when it's not raining and right in front of the library when it is. There are so many great new titles to check out!
Squawk Talk Looking for Book of the Day Submissions!
Has your child finished a book they loved and would highly recommend? Ask your child to record themselves promoting this book for our daily podcast, Squawk Talk. You can use the voice recording app on any phone or device, or vocaroo, a free online recording site. Submissions should be about a minute and a half and can be emailed to rjelen@kentfieldschools.org.
Book Donations needed!
Our grade level book bags have been a huge success... so much so that we are in desperate need of more donations! If you have any new or gently used books to donate, you can drop them off anytime during school hours outside the Kent gate or in front of the library. If your child needs new books to read, have them come and grab a bag from the grade level boxes right in front of the Kent gate. Books can be kept, passed on or returned. Thank you for helping us keep our students reading throughout this crazy time!
---