Kentfield School District News
Dear KSD Community,
As we close out the month of March I want to highlight some of what has been accomplished around our schools over the last number of weeks.
Women's history month was celebrated through highlighting the contributions of women in history and contemporary society. Vaccination opportunities availed themselves to our staff to add an extra layer of protection and security. We expanded in-person learning opportunities for our KSD school community and launched a distance learning only pathway for targeted families. And, over 100 parents volunteered to support supervision activities across both school sites.
These highlights are just some of the magic that makes the KSD so special. I look forward to the weeks ahead where more magic will be made as we move through the final months of this school year.
Take good care,

District Announcements
REMINDER – Quarantine After Spring Break (April 5-9)
Please reference the Public Health Decision Tree (Tier III - Orange) to determine medical quarantine following the Spring Break Recess. Thank you to those families who have already submitted this form which will assist the KSD in planning for your child's program during quarantine. We request families submit their form by Tuesday, March 30th. Please contact KSD School Nurse, Laurel Yrun at lyrun@kentfieldschools.org with any questions related to quarantine and/or public health guidance.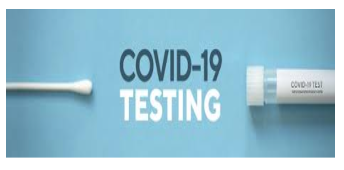 KSD & Marin County COVID-19 Resources, & Testing Opportunities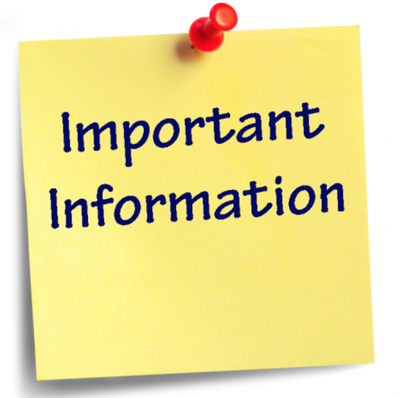 COVID-19 Decision Tree Guidance - English & Spanish Version
Know when to stay home and what to do when you or your family don't feel well or have engaged in what is categorized as a high-risk activity (e.g., any mixing of households, non-essential travel).
Upcoming Events
*For security, Zoom links and passwords for events are not posted on the District website, and are sent through ParentSquare.
Daily: Virtual Crossing Guard with Ms. Stephens, 7:55-8:30 a.m., Zoom
Monday, March 29, 2021
March 30, 2021
April 5-9, 2021: Spring Break
Monday, April 12, 2021
Resume KSD Full In-Person Instruction Districtwide
KSPTA meeting, 7-8:30 p.m.
Tuesday, April 13, 2021
Wednesday, April 14, 2021
Friday, April 16, 2021
Kent Principal Chat, 9:15 a.m.
Tuesday, April 20, 2021
Wednesday, April 21, 2021
Monday, April 26, 2021
Bacich Site Council meeting, 3-4 p.m.
---
School Board & District Committees
Safe Routes to School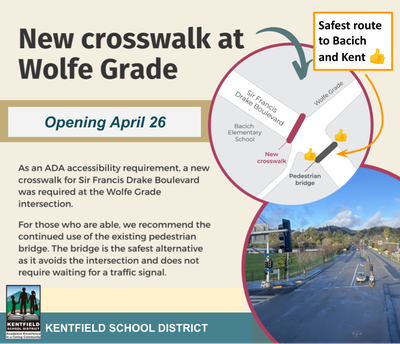 Wolfe Grade Crosswalk Activation Postponed
The new crosswalk being installed at the intersection of Wolfe Grade and Sir Francis Drake was scheduled to be ready for use on March 12. However, because of some unexpected issues needing to be resolved, there will be a delay in its activation. We will share details about the new opening date for the crosswalk as soon as we have more information.
If you have questions regarding this recommended route to school, feel to contact Tanya Vernitsky, Safe Routes to Schools representative, at tanya.vernitsky@gmail.com. Also, this is a link to neighborhood route maps from Safe Routes to Schools. Thank you!
Learn how to get to school safely with these tips for Hybrid Instruction. (English | Spanish)