Bacich Bears News


Happy Monday Bacich Bears!
First and foremost, let me begin by thanking everyone for their thoughts and wishes for a speedy recovery for Mary Ann. I know she appreciates it, and I know the entire staff is grateful for all of your support as well. In the meantime, we are very excited to welcome back Katie Ward, who will be on campus to support staff and students for the next couple of weeks.
Things are in full swing here at Bacich, and the students couldn't be happier!
PE Spotlight
As many of you know, along with a new play structure, we also welcomed the installation of a Gaga Pit. The students have been waiting patiently for the chance to use it, and last week was their chance! Each PE class had the opportunity to learn and review the rules during their classes last week, and we hope to be able to officially open the Gaga Pit at recess in the coming weeks.
Car Line
Thank you to everyone for your continuing support with our morning and afternoon car line. As a gentle reminder, please make sure you are driving slowly and carefully through the parking lot. Staff and student safety is our number one priority, so we thank you in advance for your help with keeping our car line safe.
We are also noticing that a number of cars are either still missing their placards, or do not have all of the necessary information on them. All placards should have your student's name and grade written large enough for volunteers to easily read it. See example below: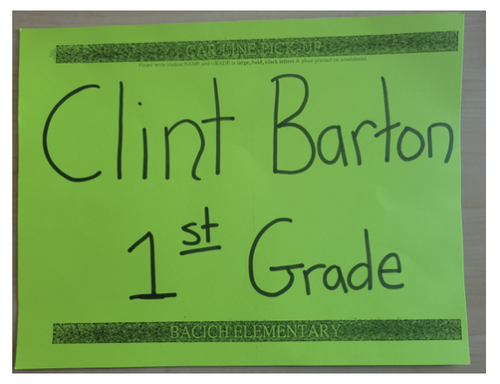 Finally, we would like to remind parents that the parking spots in both lots are for staff only and should not be used for pick-up or drop-off.
Parent Volunteers
We are very excited to slowly begin reintroducing volunteer opportunities back onto our campus. At this time volunteer opportunities will be for whole school events (Car Line, Book Fair, etc.), for projects on campus where students aren't being worked with directly (library book re-shelving, garden maintenance), and for take-home classroom projects. Be on the lookout for opportunities coming your direction!
Wishing you all a great week!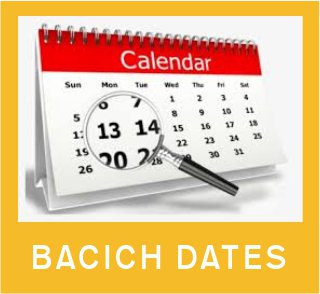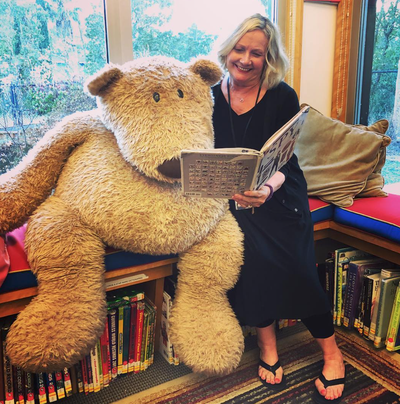 Bacich Library
The Bacich Library is open every morning, snack recess, lunch recess, and after school.
How to Check Out Books
Click on the Alexandria Library Catalog (to look up books). Your message might say, "Your connection is not fully secure." Click the box on the left that says "advanced" NOT "back to safety."
Scroll down and click on "proceed to bacich.goalexandria.com (unsafe)." It is safe.
This will bring you to the search page. You can search by author, title, series, subject or all words.
If you don't know what to read, find ideas by continuing down to the second line to "Explore" to discover Most Popular – what your friends are reading, What's New and Award Winners.
Watch this how to video if you are having problems.
Bacich Library Book Buzz: bacichlibrarybookbuzz.blogspot.com
Check out Ms. Warnick's blog for valuable information about the library, volunteering, and what classes have been working on in the library.
Don't miss Ms. Warnick's recommendations for Hispanic Heritage Month, September 15 through October 15.