KIK News

KIK SUPER BOWL OFFICIAL KICKOFF
Grade Level Participation Kickoff (K-8), 1/24-2/9
HUDDLE UP—EACH GRADE IS A TEAM!
KIK Super Bowl is the fun "playoff" challenge to encourage every family to participate in donating to our student programs:
Every donation to Family Giving scores points for your children's Grade Level Team, K-8.
Each donation can score a Touchdown or Field Goal. And, the grade level with the highest participation percentage will get an MVP-nod and 10 Touchdown points! Power into the End Zone
The Grade Level Team that scores the most points by February 9, 2022 wins the KIK Super Bowl and a Tailgate Treat Party to celebrate their win! See Game Rules.
TEAMWORK MAKES THE DREAM WORK
Thank you to all current Family Giving Donors for their donation— you're a fan favorite! Your 2021-22 donation will automatically count toward the participation percentage score. Learn more about how your donation counts.
GAME SCHEDULE
FEB 09: Give to KIK Family Giving by February 9 to score participation points toward each child's grade level.
FEB 11: Grade Level Team Champion announced!
SPECIAL THANKS to KIK Super Bowl Sponsor: Allison Fortini Crawford.
#KIKSUPERBOWL - Stay connected, get updates on KIK Super Bowl score leaders.

KIK PRESENTS THE ROARING TWENTY 20'S!
Please Donate Now, no later than March 1!
KIK is thrilled to announce that plans are underway for our annual Spring Event, which includes an online auction, the largest event fundraiser of the year! Current plans also include a celebration party and live auction at Bimbo's 365 in San Francisco on Saturday, April 30. Stay tuned for party details in coming months.
First, in order to raise as much funds as possible to service our children, we need help from our KSD community to secure and donate unique, bid-worthy items for the online and live auctions:
These items make the most money for our school; can you help by donating or connecting us with someone you know who can?

Vacation homes and getaways
Unique experiences (members-only golf clubs, spa packages, exclusive sports tickets, bike adventures, writing classes, tours of private companies or backstage passes to shows)
Jewelry, art, autographed sports and music memorabilia
Gift cards to local restaurants, grocery and retail stores

Host a sign-up party (cooking class, hike and brunch, golf outing, outdoor movie night, bubbles and oysters, sports-themed party – the sky is the limit!) for adults or kids.
No donation is too small and can be bundled with other similar items to create a themed auction package (beauty/spa, kids activities, teen entertainment, home decor/organization, fitness, tech).
Family and friends can also contribute by purchasing items off the Amazon auction wish list. It's an easy way to be part of the auction and help KIK reach the $1M goal for our Bacich and Kent students and schools.
All donations must be submitted by March 1. Please contact Holly Myers if you have ideas or items to donate. THANK YOU!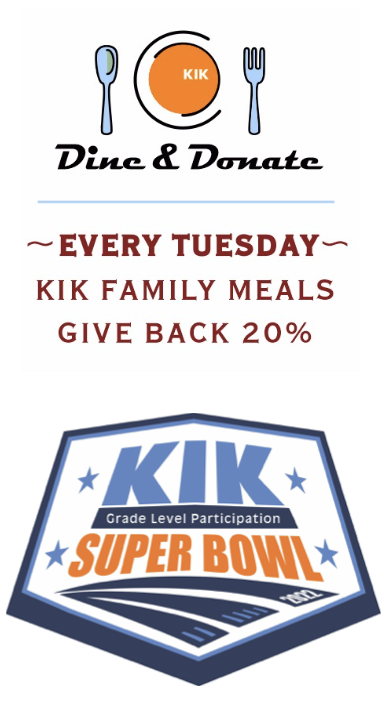 KIK EVENTS + DINE & DONATE
JAN 24 - "Scheduled KIKoff Time" - Let's Get Ready to Rrrrrrumble!
KIK Super Bowl Challenge - Grade Level Participation Contest begins
JAN 25 - $50 Dine & Donate - Left Bank KIK Family Meals
Gives 20% to KIK, Opt in for weekly order reminder.
Coq Au Vin, Linguine, Brussels Sprouts, & Mixed Green Salad
FEB 09 - "Game Day" - KIK Super Bowl Challenge ends! Go Big, Go Long!
MAR 01 & 03 - Bacich Wildcare Program funded by KIK GRANTS for KSD KIDS
APRIL 30 - Save the Date - THE ROARING TWENTY 20'S
KIK Spring Auction Event, Party at Bimbo's 365 Club featuring Mustache Harbor.
Call for Auction Items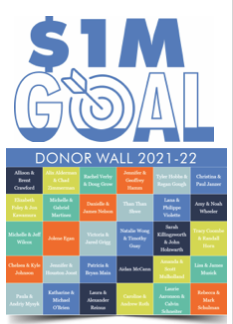 KIK $1M ANNUAL GOAL — Update
We're closing in on 75% of our fundraising goal for our Bacich and Kent schools — outstanding! Thank you to our Family Giving Donors and Business Partners for their support of our students and the programs they love.
$1M Annual Fundraising Status : $740,494 (net) to date / $1M GOAL
Thank you to the 305 Family Giving Donors to date, and counting, who are committed to our students and schools! Can we add your name to this list?
KIK is committed to raising $1 million for our Bacich and Kent students for the 2021-22 school year.
For Installments or Matching Gifts, Print Donor Form in English and Spanish.