Community News
Information, events, and news provided in our newsletter's "Community News" is offered as service to our community, and are not sponsored by the Kentfield School District. Placement does not represent an endorsement.

Update from Supervisor Katie Rice
The State of California formally announced that 1251 S. Eliseo Homekey proposal has been awarded. The site will be owned and operated by Episcopal Community Services (ECS) in partnership with the County of Marin.
A hearing of the Board of Supervisors will be held this Tuesday, February 15, to consider formally accepting the grant and confirm the County's commitment of match funding. The meeting begins at 9 a.m., and the topic is first on the agenda.
Participation can be virtual or in-person, but please note that attendance in the Board chamber (Suite 330) is limited to 100 people given public health restrictions related to COVID-19. In the event the chamber reaches capacity, we will allow those waiting in alternative areas the opportunity to walk-in and provide comment at the appropriate time. The full agenda and information on how to access the meeting can be found on the meeting archive.
For more information, read the press release and visit the project website including comprehensive FAQ's. You can submit any questions you have through the website and sign up for updates.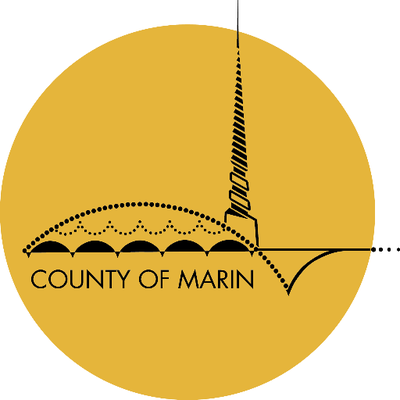 Multiple Services to be Offered at Marin City Event
Clean Slate program to address justice-related & health needs
February 17, 2022, 4-7 p.m., parking lot of Saint Andrew Presbyterian Church, 101 Donahue Street, Marin City.
People in need of help with justice-related tasks such as clearing one's record, terminating one's probation, or dismissing a conviction will be able to walk in with documentation and receive help from the Public Defender's Office, the District Attorney's Office, or the Probation Department.
The Department of Health and Human Services will be on hand for assistance with public benefits such as Medi-Cal, CalFresh food assistance, CalWORKS services, employment training, and general financial relief for families. COVID-19 vaccinations and booster shots will be available as well.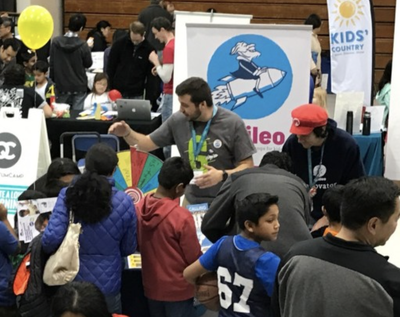 Summer Camp Fair
Five free Summer Camp Fairs around the Bay Area offer families a one-stop fair to learn about camps, educational programs, sports organizations, and more resources for their children's enrichment, recreation.
View flyer and learn more at www.BayAreaCampFairs.com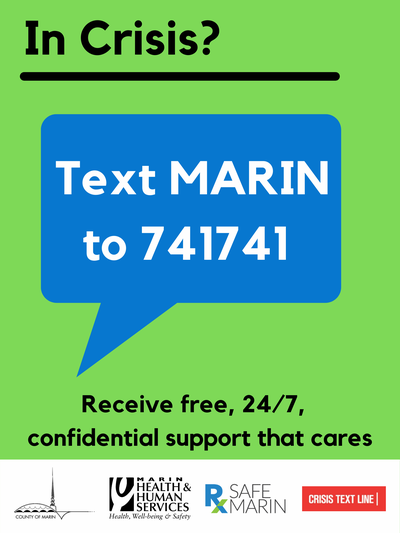 Crisis Text Support Line
Marin County is offering our youth another means of mental health support through a crisis text line.
Text MARIN to 741741 for Support that Cares
If you are ever in need of support, Crisis Text Line is always available to offer help. Connect with a trained Crisis Counselor and share your feelings in a safe space. Text MARIN to 741741 for free, 24/7, confidential support that cares. Available in Spanish 2022.

Marin Health Hubs
Health hubs, we provide free and bilingual services such as food distribution, nutrition education, health screenings, and information about community organizations.
Food pantry items are provided by the SF-Marin Food Bank and by the ExtraFood.org Program, and the health screenings are provided by our wonderful nurses!
Everyone is welcome to attend the health hubs food pantry and to help us run it!
www.marinclinic.org/health-hubs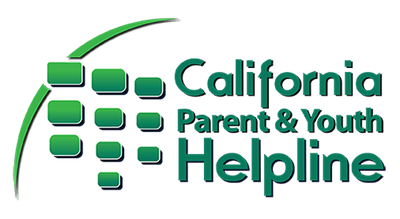 Parent & Youth.Helpline
This free helpline provides free trauma-informed, evidenced-based emotional support to parents, children and youth in any language via calls, text, live chat, and email.
Available 7 days a week from 8 a.m.-8 p.m.
Parents can join a Weekly Online Support Group through the website: caparentyouthhelpline.org.
Helpline #: 855-427-2736