Bacich Bears News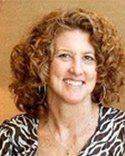 Dear Bacich Community,
I'm so pleased to be back among the Bacich students! This morning I had the golden opportunity to join a 3rd grade art class with Mrs. Barbara Libby. The lesson was on 'Mindful Mark Making' and Mrs. Libby invited staff to join in one of her classes to create community, to breathe, to slow down and to ground ourselves. What a wonderful way to start the week!
Walk and Roll to School
This Wednesday is Bacich's Walk and Roll to School Day! Please consider having your child arrive at school in some other way besides a car. There will be recognition for those who choose to walk or roll to school.
Read-a-thon
Wednesday, March 2 is Read Across America day. Although we celebrate the love of reading and the creation of diverse readers all the time, Read Across America day gives us the excuse to really highlight reading in March. This year, we have a special day on Wednesday, March 23 - a readathon sponsored by the KSPTA! All day, students will be participating in reading activities while the KSPTA is getting sponsors for minutes read to raise funds to support our district. Everyone wins! Look for more information coming home this Friday in your child's Friday folder about how you can support this great event.
March Mathness
It's not a typo! March is not just about college basketball! It is your chance to have some fun with math each day with your child. Our super Math Committee led by Mrs. Lindsay Zerzan has created "March Mathness" calendars filled with lots of great activities that will support your child's growth in math while having a good time. Math can be fun! Click on the links below to view your grade level calendar. Second graders can use either one!
2022 K-2 Bacich March Mathness Calendar
2022 K-2 Bacich March Mathness Calendar in Spanish
2022 Grades 2-4 Bacich March Mathness Calendar
2022 Grades 2-4 Bacich March Mathness Calendar in Spanish
Please don't forget to review the carline procedures below in the newsletter. If we all follow the system, it works so much better. Thank you!
Have a great week,
Bacich Announcements
Kent Tutors Marin: Free virtual tutoring to K–6th graders in all subjects during school, after school, and on weekends. Spanish-speaking tutors are available. Sessions are 30-45 minutes via Zoom.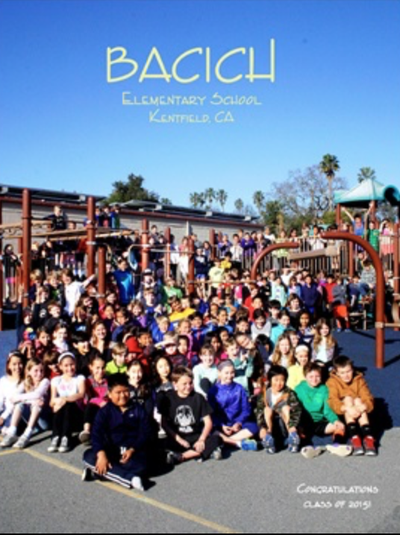 Bacich Yearbooks on Sale March 1!
The yearbook will be back this year with class photos and pictures of all students, not to mention spreads of special events on campus throughout the year! The sales of the book support KSPTA programming in the KSD. Yearbooks will be delivered to students in their classrooms at the end of the school year.
Price – Buy early and save!
March 1-13: $30
March 14-April 29: $35
Orders close on April 29, 2022
Link to order: jostensyearbooks.com/?REF=A09854647
If purchasing a yearbook is a financial burden for your family, please reach out to either Amber Hatfield (ahatfield@kentfieldschools.org) or Ivette Villarreal (ivillarreal@kentfieldschools.org), and the KSPTA will make sure your child has a book.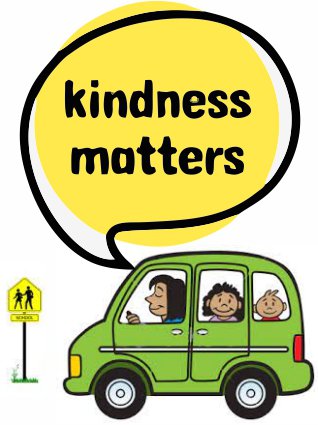 Carline Procedures
This is the time of year that our students receive a review of classroom and recess procedures, so I would like to review our carline procedures with the grown-ups too! Thank you for paying attention to these guidelines as it keeps everyone safe. Remember, there will always be a wait in the carline.
Please do not park in our handicapped spots, even for just a minute. The sheriff will ticket you! These spots are used daily by our families who need them for drop off and pick up.
Please use caution when entering or exiting the school grounds – both entrances are used by pedestrians, bicyclists, buses as well as cars.
Please pull forward as far as possible to make room for other cars to pull up into the loading and unloading areas.
Please have your child ready to go with their backpack and exit/enter the car on the sidewalk side.
Please do NOT pass stopped or slow moving vehicles in the loading areas.
A special thank you to all of the parent volunteers who help carline run smoothly!
Bacich Library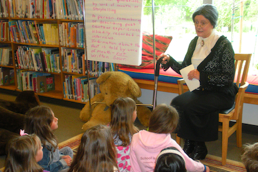 February Blog Post Now Available!
Read the March issue of the Bacich Library Book Buzz: bacichlibrarybookbuzz.blogspot.com
Learn about how the library is celebrating Read Across America and St. Patrick's Day.
Find out about Bacich Library's special guest "Mrs. Monelli" who visited for an oral history lesson to kick off the second grade heritage unit.
Discover suggested activities throughout the month, and much more!
To Check Out Books: Visit: sites.google.com/kentfieldschools.org/bacich-library
Watch this how to video to learn how to check out Bacich Library books.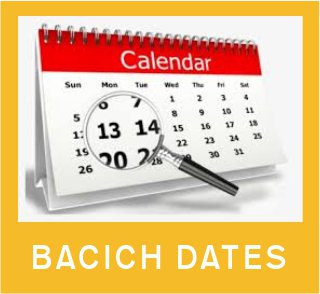 March 2: Bacich Walk & Roll to School & Bacich ELAC meeting, 8:30-9:30 a.m., agenda
March 9: Bacich Principal Chat, 8-9 a.m., Zoom
March 21: Bacich Site Council meeting, 3:15-4:15 p.m.
March 23: KSPTA Readathon
March 31: Open House