Community News
Information, events, and news provided in our newsletter's "Community News" is offered as service to our community, and are not sponsored by the Kentfield School District. Placement does not represent an endorsement.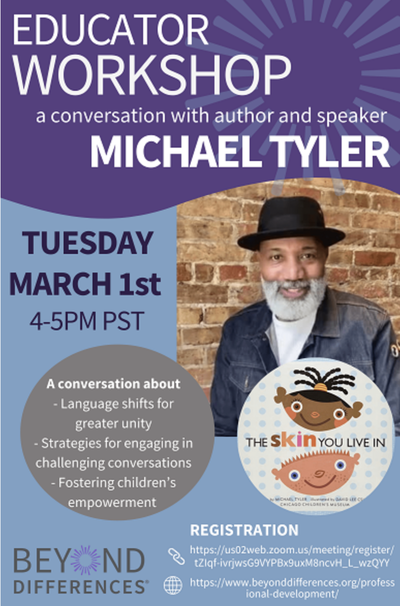 Educator Workshop: Beyond Differences presents Michael Tyler
March 1, 2022 4 p.m. (PST), Zoom
Beyond Differences® is thrilled to announce an upcoming workshop on anti-racism and working with youth with acclaimed author, speaker and thought-leader Michael Tyler.
Tyler is the author of The Skin You Live In and Water for the Soul: A Father's Hope for his Son, as well as many other published works for both children and adults. He will be joining Beyond Differences for an interactive conversation with educators about "Unlearning Divisions and the Knowledge of Unity." The conversation will include:
Language shifts for greater unity.
Strategies for engaging conversation to achieve greater unity
Cultivating children's empowerment for unity.

Learning Opportunities for Middle school Students
The Corte Madera Library is hosting multiple learning opportunities for middle school students:
Starting Saturday March 5, teen tutors from Redwood High school will be available from 10 a.m.-12 p.m. to assist with various subjects in the library's teen section. This is a drop-in service, so first come first served. Masks are requested to mimic school policies due to close proximity. Call the library for more information.
Starting on March 12, another Redwood student will be hosting six classes for 5th-12th graders on how to program using Python. Please call the library to register, space will be limited. Chromebooks are available in-branch, or personal laptops can also be used. Classes are cumulative, and will be posted online following the in-person sessions. Dates: 3/12, 3/19, 3/26, 4/16, 4/23, 4/30.
Find us at marinlibrary.org, or reach us by phone at: 415-924-3515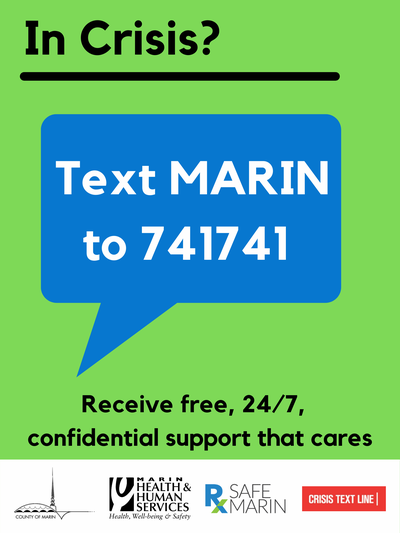 Crisis Text Support Line
Marin County is offering our youth another means of mental health support through a crisis text line.
Text MARIN to 741741 for Support that Cares
If you are ever in need of support, Crisis Text Line is always available to offer help. Connect with a trained Crisis Counselor and share your feelings in a safe space. Text MARIN to 741741 for free, 24/7, confidential support that cares. Available in Spanish 2022.

Marin Health Hubs
Health hubs, we provide free and bilingual services such as food distribution, nutrition education, health screenings, and information about community organizations.
Food pantry items are provided by the SF-Marin Food Bank and by the ExtraFood.org Program, and the health screenings are provided by our wonderful nurses!
Everyone is welcome to attend the health hubs food pantry and to help us run it!
www.marinclinic.org/health-hubs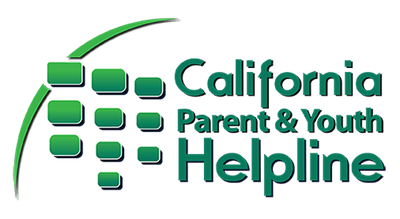 Parent & Youth.Helpline
This free helpline provides free trauma-informed, evidenced-based emotional support to parents, children and youth in any language via calls, text, live chat, and email.
Available 7 days a week from 8 a.m.-8 p.m.
Parents can join a Weekly Online Support Group through the website: caparentyouthhelpline.org.
Helpline #: 855-427-2736