KIK News

KIK PRESENTS THE ROARING TWENTY 20'S!
Please consider donating an auction item today to help raise program funds.
Plans are underway for our annual Spring Event, which includes an online auction, the largest event fundraiser of the year, as well as a celebration party and live auction at Bimbo's 365 in San Francisco on Saturday, April 30.
In order to raise as much funds as possible, we need sponsors and unique, bid-worthy items:
Sponsorship opportunities available from $250 - $10,000.
Donate one of the following items:

Vacation homes and getaways
Unique experiences (members-only golf clubs, spa packages, exclusive sports tickets, bike adventures, backstage passes to shows)
Jewelry, art, autographed sports and music memorabilia
Gift cards to local restaurants, grocery and retail stores

Host a sign-up party for adults or kids.
Purchase items off the Amazon auction wish list.
No donation is too small!
Please contact Holly Myers at events@kikschools.org if you can sponsor or donate. We'd love to receive the items by March 15. THANK YOU!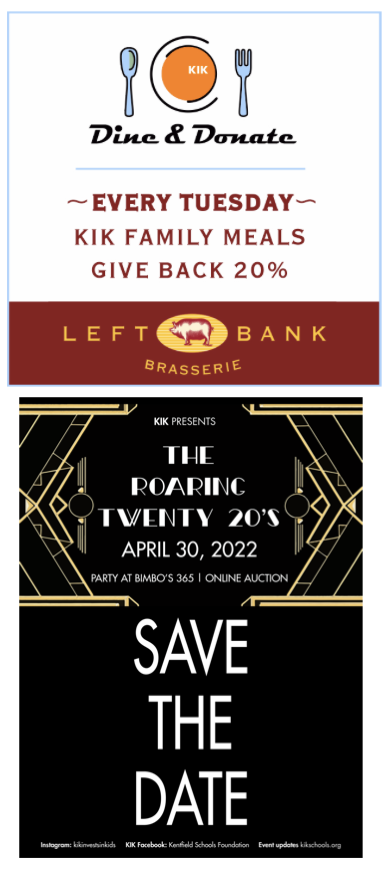 KIK EVENTS + DINE & DONATE
MAR 01 - $50 Dine & Donate - Left Bank KIK Family Meals
Gives 20% to KIK, Opt in for weekly order reminder.
BBQ chicken, salad vert, macaroni and cheese, green beans
MAR 01 - Deadline to Receive Donations for SPRING ONLINE AUCTION
Call for Auction Items
MAR 01 & 03 - Bacich Wildcare Program funded by KIK GRANTS for KSD KIDS
APRIL 21-28 - KIK SPRING ONLINE AUCTION - THE ROARING TWENTY 20'S
KIK Spring Online Auction Event, Donate items by March 1
APRIL 30 - Save the Date - THE ROARING TWENTY 20'S
KIK Spring Auction Event, Party at Bimbo's 365 Club featuring Mustache Harbor.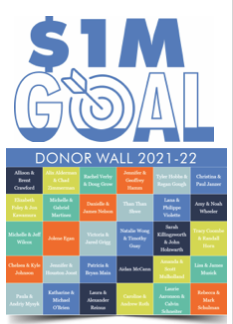 KIK $1M ANNUAL GOAL — Update
We're at nearly 80% of our fundraising goal for our Bacich and Kent schools — fantastic! Thank you to our Family Giving We're over the 80% mark of our fundraising goal for our Bacich and Kent schools — incredible! Thank you to our Family Giving Donors and Business Partners for their support of our students and the programs they love.
$1M Annual Fundraising Status : $813,299 (net) to date / $1M GOAL
Thank you to the 328 Family Giving Donors to date, and counting, who are committed to our students and schools! Can we add your name to this list?
KIK is committed to raising $1 million for our Bacich and Kent students for the 2021-22 school year.
For Installments or Matching Gifts, Print Donor Form in English and Spanish.