Bacich Bears News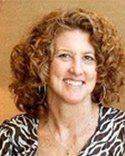 Dear Bacich Community,
Happy Pi Day! That's 3.14! Don't forget to have fun with math all this month using the March Mathness calendars shared at the start of the month.
Personnel Updates
Please join me in welcoming back Ms. Helene Clarke as our part time Art teacher, working in collaboration with Ms. Barbara Libby beginning March 21. We thank Ms. Megan Ayres for her work in the art room and we are grateful that she is still available to us as a substitute. We are also so pleased to welcome beloved Bacich teacher, Ms. Nancy Kaneshiro, as our substitute math intervention teacher in the place of Ms. Winnie Caulkins. Ms. Kaneshiro begins her important intervention work this week and will be at Bacich Mondays, Tuesdays and Thursdays.
Open House
We are excited to welcome you, in person, to Bacich's Open House on Thursday, March 31 from 6 to 7 p.m. It is such an honor to host our entire school community on this special night to meet teachers and learn more about our unique educational programs. Our students will share their classrooms and learning activities to provide parents/guardians a greater understanding of their children's learning space. Bacich School is a special place where the learning magic is alive everyday. We are thrilled to be able to share it with each of you. Please see this Parent Square post for more details.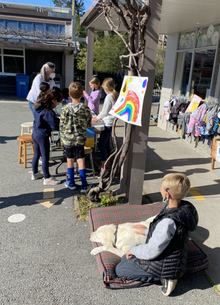 Honu's Cranes for Ukraine
Thank you Marty Ross and her class for setting up an opportunity for students to relieve some anxiety they may be feeling about Ukraine and also to do something positive for themselves and others. Today at recess there was a table and a few chairs outside their classroom near Honu's bed with a sign that says "Honu's Cranes For Ukraine." Students chose to sit with Honu or write a message for Ukraine on origami paper, fold a crane, and put it in the basket. Ms. Ross' class will then hang the cranes from the Gingko Peace Tree in the center of the Quad. In this way, children can see themselves as helpers, and they can also "talk with Honu" about anything that they might be worried about. The table will be set up several times this week.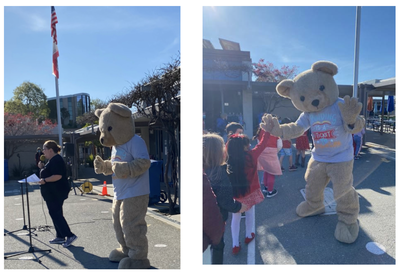 Schoolwide Assembly
Last Friday, the whole school got together on the blacktop for our monthly assembly. Ms. A introduced our Peacemaker Team, and reminded students how to use the Peace Paths and the Buddy Bench. Then, it was time for the read-a-thon kickoff! Ms. Duran shared the details of the event and was accompanied by a surprise visit from Bacich Bear! The Bacich Bear led the students in the Bacich cheer and then the wave!
Have a great week,
Bacich Announcements
Kent Tutors Marin: Free virtual tutoring to K–6th graders in all subjects during school, after school, and on weekends. Spanish-speaking tutors are available. Sessions are 30-45 minutes via Zoom.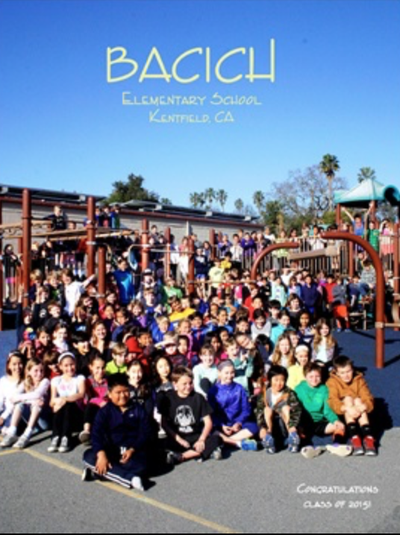 Bacich Yearbooks Now on Sale!
The yearbook will be back this year with class photos and pictures of all students, not to mention spreads of special events on campus throughout the year! The sales of the book support KSPTA programming in the KSD. Yearbooks will be delivered to students in their classrooms at the end of the school year.
If purchasing a yearbook is a financial burden for your family, please reach out to either Amber Hatfield (ahatfield@kentfieldschools.org) or Ivette Villarreal (ivillarreal@kentfieldschools.org), and the KSPTA will make sure your child has a book.
Bacich Library
Watch the presentation Bacich students made at the February School Board meeting! Check it out and learn more about the Bacich Library program.
Read the March issue of the Bacich Library Book Buzz: bacichlibrarybookbuzz.blogspot.com
Learn about how the library is celebrating Read Across America and St. Patrick's Day. Discover suggested activities throughout the month, and much more!
To Check Out Books: Visit: sites.google.com/kentfieldschools.org/bacich-library
Watch this how to video to learn how to check out Bacich Library books.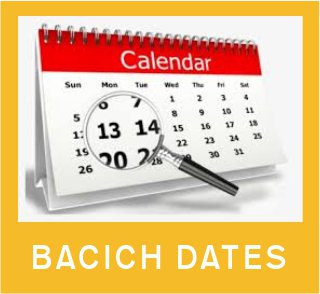 March 18: Bacich Principal Chat, 9:45-10:45 a.m., Bacich Library
March 21: Bacich Site Council meeting, 3:15-4:15 p.m.
March 23: KSPTA Readathon
March 31: Open House
April 13, 20, 27 and "May the 4th" be with you!: Walk and Roll Jedi Challenge