Community News
Information, events, and news provided in our newsletter's "Community News" is offered as service to our community, and are not sponsored by the Kentfield School District. Placement does not represent an endorsement.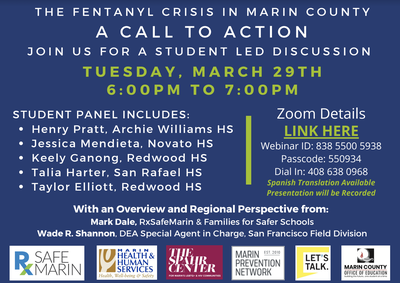 Fentanyl Alert
Call to Action and Student Panel, March 29, 2022, Zoom
Marin County Office of Education wants to alert our parent community of a dangerous drug that is a growing risk to Marin students: the synthetic opioid fentanyl. Last December, the Redwood Bark student paper published an article, One pill can kill: Addiction, loss and fentanyl. The epidemic unknowingly threatening Marin's most vulnerable teens. This came one month after the award-winning piece, Every parent's worst nightmare: Fentanyl epidemic overtakes teens, featured in Archie William's Pitch.
These articles call attention to an urgent topic we all need to address: the presence of fentanyl and even more powerful synthetic opioids in pills and powders within Marin County. State sources reveal that 72% of the 5,000 opioid drug overdoses in California in 2020 involved fentanyl.
Teens often gain access to pills that they believe are Xanax, Adderall, or Oxycodone via social media apps like Snapchat. Often, these are counterfeit pills. The DEA has reported that for every 10 illicit pills they test, four contain potentially lethal amounts of fentanyl. The combination of easy accessibility and fentanyl in the drug supply have exponentially increased the risks of youth drug experimentation.
What can we do about the rising threat of fentanyl and even more deadly synthetic opioids?
Discuss the dangers of synthetic opioids like fentanyl with the young people in our lives. This 60 second PSA by the CDC is a great conversation starter, and the locally-produced "Let's Talk Marin" booklets/webinars can spark more discussions.
Carry naloxone. Naloxone (brand name Narcan) is an easy-to-use nasal spray that reverses opioid overdoses. Please check with your pharmacy, and/or contact info@rxsafemarin.org, to obtain Narcan.
We continue to prioritize the health and safety of our students across Marin, with our first shipment of Narcan (5-10 kits per school) being distributed soon to public high school and middle schools in Marin. We thank our youth leaders and partners below for supporting our efforts to address this urgent issue.
Marin County Office of Education
View flyer to learn more and access the Call to Action on March 29, 2022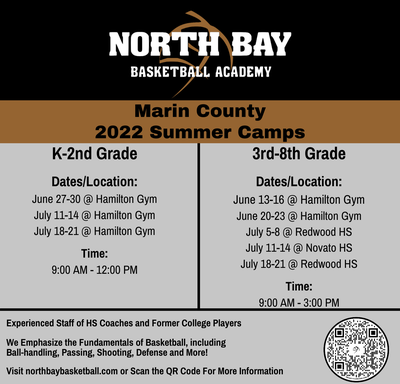 North Bay Basketball Academy Summer Camps
North Bay Basketball Academy is a non-profit organization providing basketball instruction with an emphasis on fundamentals and skill development.
Financial assistance to qualifying families.
Learn more at www.northbaybasketball.com and view flyer.

Recorded Webinar: Empathizing with Tragedy: How to Talk to Kids about Conflict & War.
Please see a link to the video and the resources shared during the webinar: here.
Topics:
Age-appropriate conversations to address anxiety and fear.
Trusted news sources and digital wellness.
The power and danger of social media.
Uplifting and empowering kids in times of tragedy.
Taking positive action.
Thank you again to the presenters who provided such valuable insight and information:
Jamie Nuñez, Bay Area Regional Manager for Common Sense Media
Julie Kurtz, Founder of Center for Optimal Brain Integration®
Emily Gerber, Ph.D., Mental Health Services Director, Kaiser Permanente

Learning Opportunities for Middle school Students
The Corte Madera Library is hosting multiple learning opportunities for middle school students:
On Saturdays, teen tutors from Redwood High school will be available from 10 a.m.-12 p.m. to assist with various subjects in the library's teen section. This is a drop-in service, so first come first served. Masks are requested to mimic school policies due to close proximity. Call the library for more information.
Another Redwood student will be hosting six classes for 5th-12th graders on how to program using Python. Please call the library to register, space will be limited. Chromebooks are available in-branch, or personal laptops can also be used. Classes are cumulative, and will be posted online following the in-person sessions. Dates: 3/12, 3/19, 3/26, 4/16, 4/23, 4/30.
Find us at marinlibrary.org, or reach us by phone at: 415-924-3515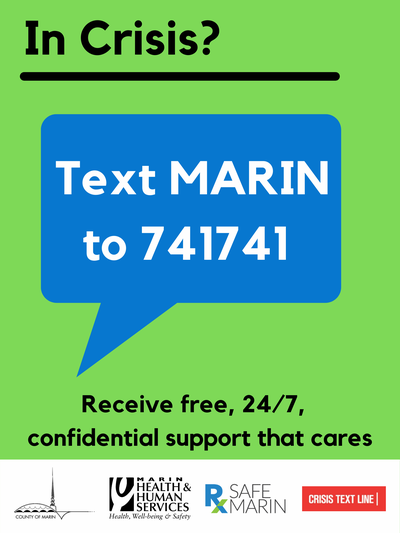 Crisis Text Support Line
Marin County is offering our youth another means of mental health support through a crisis text line.
Text MARIN to 741741 for Support that Cares
If you are ever in need of support, Crisis Text Line is always available to offer help. Connect with a trained Crisis Counselor and share your feelings in a safe space. Text MARIN to 741741 for free, 24/7, confidential support that cares. Available in Spanish 2022.

Marin Health Hubs
Health hubs, we provide free and bilingual services such as food distribution, nutrition education, health screenings, and information about community organizations.
Food pantry items are provided by the SF-Marin Food Bank and by the ExtraFood.org Program, and the health screenings are provided by our wonderful nurses!
Everyone is welcome to attend the health hubs food pantry and to help us run it!
www.marinclinic.org/health-hubs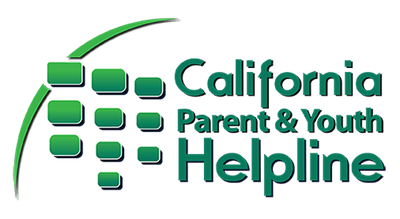 Parent & Youth.Helpline
This free helpline provides free trauma-informed, evidenced-based emotional support to parents, children and youth in any language via calls, text, live chat, and email.
Available 7 days a week from 8 a.m.-8 p.m.
Parents can join a Weekly Online Support Group through the website: caparentyouthhelpline.org.
Helpline #: 855-427-2736