KIK News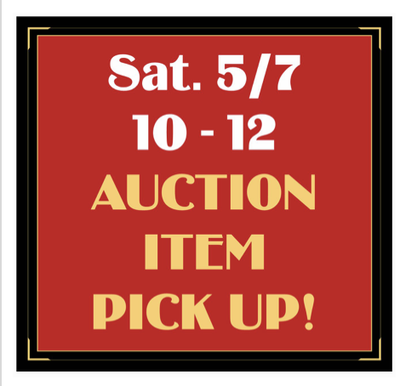 AUCTION ITEM PICK-UP
Saturday, May 7 from 10am-noon in front of the Bacich Community Center
If you've won an item in the online auction, please plan to pick it up during this time. Contact Holly Myers with any questions: holly.myers@gmail.com
We have a few spots left for some of the Sign Up Parties — secure your spot before they sell out!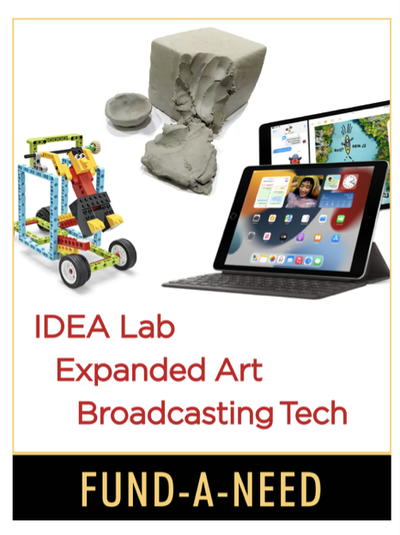 FUND-A-NEED KIK-START :: INNOVATION, TECH + ARTS
This spring's Fund-a-Need will support specific needs in the Bacich IDEA Lab and Kent's Art and Broadcasting programs for the 2022-23 school year. Separate from the Annual Goal, please consider donating to the FUND-A-NEED today.
Innovation and Tech assets: Bacich IDEA Lab and Maker program
Expanded Art offerings: Sculpture, Ceramics and Stop Motion Animation
Broadcasting Tech: Video Creation, Script Editing and Broadcast Management
Learn more and check out the FAN Video
Donate to Fund-a-Need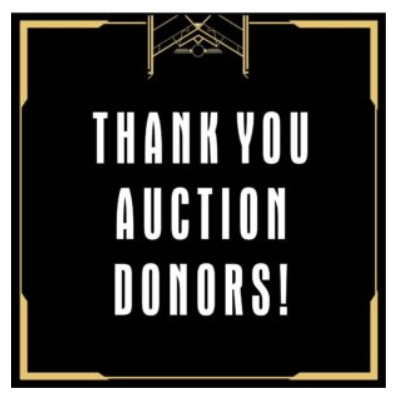 THANKS YOU BUSINESS, FAMILY, AND TEACHER DONORS
Thank you to all our Business, Family, and Teacher Donors who were instrumental in making the auction a success!  
We are so grateful for each and every one of you.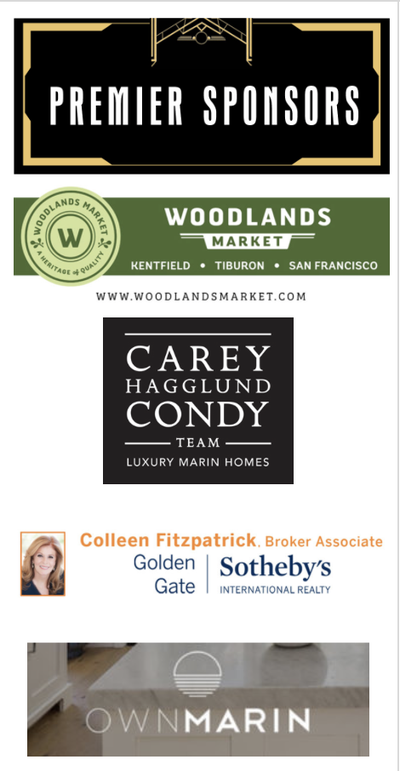 SPECIAL THANKS TO PREMIER AUCTION SPONSORS
Woodlands Market - is an invaluable KIK business partner and, as our upscale neighborhood market, they offer delicious deli sandwiches, gourmet food, organic produce and ready-made eats and spirits.
Carey Hagglund Condy Team | Luxury Marin Homes - A Top 5 Marin County agent, Carey is known to be honest and discreet. She offers unparalleled knowledge of Marin's unique neighborhoods and schools—of Marin Living Beyond the Four Walls.
Colleen Fitzpatrick | Golden Gate | Sotheby's International Realty - Having represented many Marin and San Francisco luxury homes, Colleen brings a wealth of expertise, experience, and the highest level of integrity and diplomacy to her clients. 
OWN Marin - Marin County's #1 real estate team since 2015, Barr Haney, Whitney Potter, and their team have helped over 650 clients achieve their goals. Ranked #1 in Kentfield, OWN Marin makes buying or selling a home easy—Let's go get your home.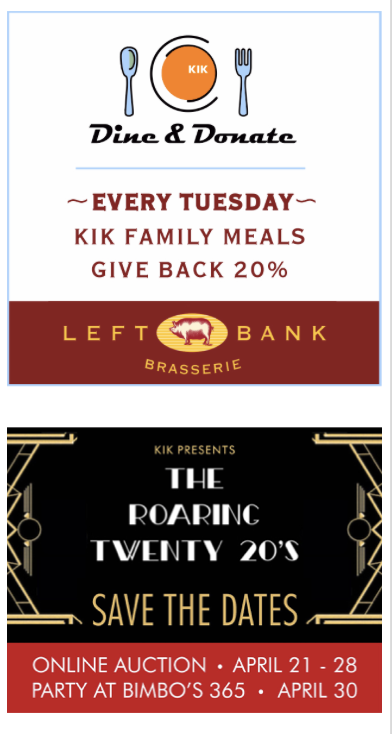 KIK EVENTS | DINE & DONATE
MAY 03 - $50 Dine & Donate - Left Bank KIK Family Meals
Gives 20% to KIK, Opt in for weekly order reminder.
Beef Bourguignon, mashed potatoes, mixed greens, asparagus
---
SPRING CONCERTS brought to you by KIK
MAY 31 - 7PM - 5th Grade Band/Strings Concert - MP Room
June 01 - 7PM - 6th Grade Band/Strings Concert - MP Room
June 02 - 7PM - Kent Zero Period Instrumental/Choir Concert - MP Room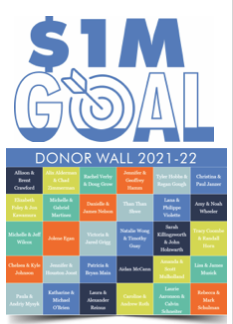 KIK $1M ANNUAL GOAL — Update
We're over the 80% mark of our fundraising goal for our Bacich and Kent schools — but we still have about $150,000 to raise in 2 months! 
$1M Annual Fundraising Status : $869,579 (net) to date / $1M GOAL
Thank you to the 350 Family Giving Donors to date who are committed to our students and the programs they love! Can we add your name to this list?
Thank you to KIK Business Partners for supporting our students and schools.
KIK is committed to raising $1 million for our Bacich and Kent students for the 2021-22 school year.
For Installments or Matching Gifts, Print Donor Form in English and Spanish.