KIK News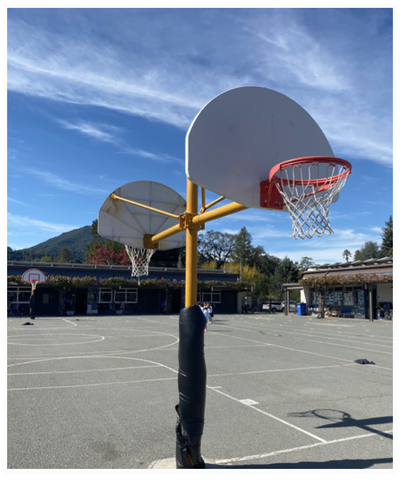 KIK FUNDS UPDATES TO BACICH HOOPS
Thanks to generous 2021-2022 donations, KIK fully funded various updates to our Bacich Basketball Courts this summer, including:
Lowered hoops which offers more age appropriate hoop heights for our younger students
Replaced and refurbished backstops, hoops and nets, where needed
Repainted basketball poles
Added durable padding around the base of the poles
Thank you Donors!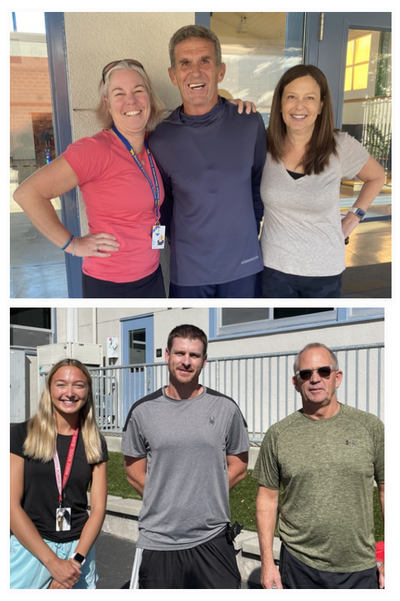 ENRICHMENT SPOTLIGHT: Physical Education (PE)
Your KIK donations help support PE at Bacich and Kent.
Our KSD kids love the chance to run, play, learn about their physical fitness, and challenge themselves.
Thank you to Jean Marc Schafer, Celeste Perez, and Ilene Braff at Bacich; and Jason Gatti, Matt Gillespie, and Chloe Duncan (while Maryellen Gore is on maternity leave) at Kent.
Our PE Coaches lead and inspire our children to try a wide variety of new sports, and to push themselves through various challenges and towards new goals, all while having fun!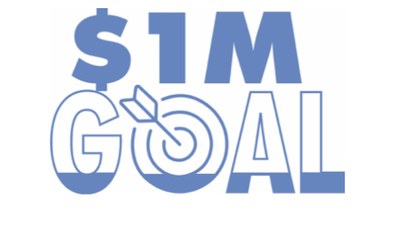 KIK $1M ANNUAL GOAL — UPDATE
$1M Annual Fundraising Status : $273,663 (net) to date / $1M GOAL

Thank you to the 105 Family Giving Donors to date who are committed to our students and the programs they love! Can we add your name to this list?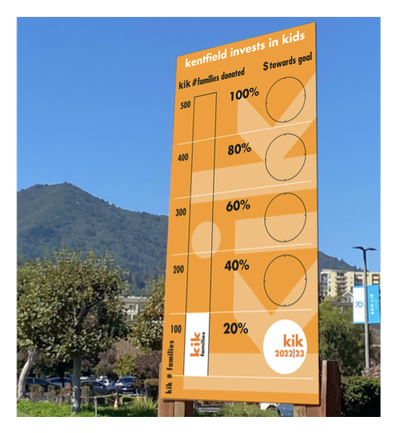 FAMILY GIVING: 2022-23 FUNDRAISING CAMPAIGN
Did you know that the annual KIK $1M contribution to Bacich and Kent directly funds enrichment programs - Art, Music, PE, Library, Maker, Woodshop, Broadcasting and more. Help support Enrichments and Donate Today!
Approximately 88% of the $1 million-plus KIK raises comes from our school families via the Family Giving Campaign.
The Family Giving Ask is $2,000 per child — any amount large or small will help us reach our goal and directly support your child's education.
Your participation counts! Please consider donating today — THANK YOU!

Learn more about Family Giving.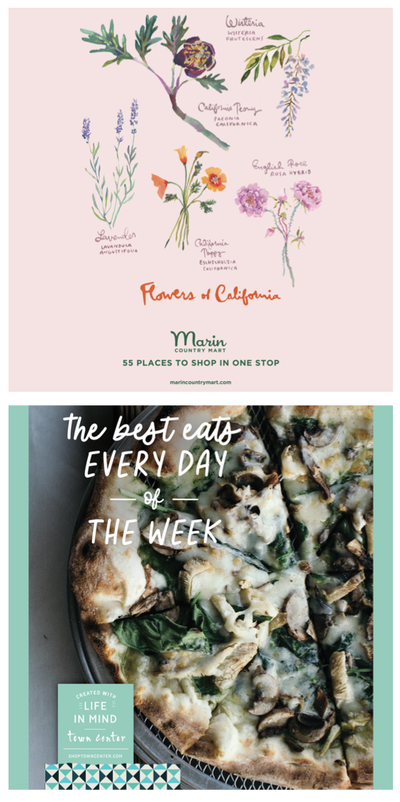 BUSINESS PARTNER SPOTLIGHT
Marin Country Mart features a collection of organic and delicious eateries, fitness and wellness, various services, independent boutiques, and family-friendly events like a year-round, weekly Farmers' Market. Find renowned brands such as Sugar Paper, Hero Shop, James Perse and locally sourced eateries like Rustic Bakery, Hog Island Oyster Co., and Farmshop.
Town Center Corte Madera offers a variety of shops in a charming, outdoor setting with activities for all—weekly farmers market, Kids' Scavenger Hunt, and Fall Music Series. During October, look for a spooktacular selfie station, and on the 30th enjoy free treat bags from 12-4pm, while supplies last!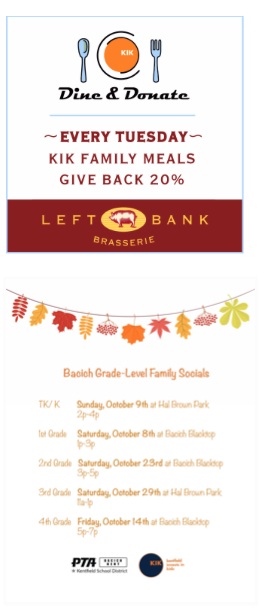 KIK EVENTS   |   DINE & DONATE
ORDER EVERY TUESDAY - $50 Dine & Donate
Left Bank KIK Family Meals — 20% of proceeds go to KIK. Opt in for a weekly order reminder.
OCT 11 - BBQ Chicken, Salad Verte, Macaroni & Cheese & Green Beans
---
KIK + KSPTA SPONSORED
BACICH GRADE-LEVEL FAMILY SOCIALS
OCT 14 - 4th Grade Family Social
@ Bacich Black Top - 5-7PM
OCT 23 - 2nd Grade Family Social
@ Bacich Black Top - 3-5PM
OCT 29 - 3rd Grade Family Social
@ Hal Brown Park, Creekside - 11AM-1PM
KIK is committed to raising $1 million for our Bacich and Kent students for the 2022-23 school year.
For Installments or Matching Gifts, Print Donor Form in English and Spanish.