District Newsletter
October 19th, 2020
Kentfield School District News
Dear Kentfield School Community,
On Friday, October 16, the KTA negotiators, KSD Administrators and the Board's labor representatives, Sarah Killingsworth and Quoc Tran, worked together to devise an agreeable action plan to support the Kentfield School District in moving forward to prepare our campuses for a return to in-person instruction for students and staff. We affirmed our joint commitment to maintaining strong relationships while working together in the best interest of our students, staff and community at large. As we continue to prepare for a transition to Hybrid Instruction we want to offer additional clarification about our instructional approach and planning for student placement.
The simultaneous approach to our instructional design allows us to maintain a continuity of learning by keeping students with their current teacher/s and only changing assignments if absolutely necessary. We recognize parents/guardians are choosing an approach based on what is best for their families, and our goal will be to ensure all students get a high quality and meaningful program no matter which approach they choose. As we plan forward we want to maximize student learning when on site, while also being sure our students who are learning remotely will receive a quality experience, which may look different than the current Distance Learning only program. Our instructional teams are using feedback from the recent pilots and their instructional expertise to formulate how this new design can work effectively for students and where we may need to adjust as we learn more. The COVID-19 pandemic has completely changed how we operate our schools, which directly affects the instructional program design. This is all new to us, and we are committed to doing the very best we can for our students – whether that is in a remote, hybrid, or in-person learning program.
Our site principals will be offering virtual principal chats to answer questions and offer more details about the Hybrid program and how our sites are being prepared to welcome students on to campus. Our teams are continuing to work through cohort design and classroom set-up, and we will continue site preparations in alignment with our School Site Specific Protection Plans (Bacich | Kent). This transition process is truly a community effort, and will take time – but we are moving forward with a common goal of doing what is best for students and staff.
I want to close, by extending my sincere appreciation to our students, staff, and parents/guardians who have been patient and flexible as we have navigated this very turbulent situation. This has been a trying time for all of us and although we may have differing opinions, we all have the same goal and focus – our KSD students. I was reminded of the quote "we are better together," which I wholeheartedly believe is necessary in order for us to overcome the obstacles that may come our way and provide the very best we can for the Kentfield School District community.
Take Good Care,

Upcoming Events
*For security, Zoom links and passwords for events are not posted on the District website, and are sent through ParentSquare.
Daily: Virtual Crossing Guard with Ms. Stephens, 7:55-8:30 a.m., Zoom
Tuesday, October 20, 2002
Wednesday, October 21, 2020
Intent to Return Form Due
Thursday, October 22, 2020
Equity & Inclusion Committee Meeting, 1:30-3 p.m., Zoom, agenda
Saturday & Sunday, October 24-25, 2020
Monday, November 2, 2020
Tuesday, November 3, 2020
---
District Announcements

Reminder: Intent to Return forms due Wednesday, October 21
Please complete an intent to participate form indicating if your child(ren) will participate in KSD's Hybrid Instructional program or Distance Learning only program, a form shall be completed for each child in the District. The information gathered will support the district in planning for a transition to Hybrid Instruction. Either option chosen by parents/guardians/students – Hybrid or Distance Learning only, will align to your child(ren)'s trimester calendar, and not be a commitment for the remainder of the school year.
Please submit your preference by Wednesday, October 21st. If we do not hear back from you, we will count on your student/s participating in the Hybrid Program. Based on the data received we may need to adjust class assignments, but will do this with as minimal disruption as possible.
---

Local - COVID-19 Update
Marin Health and Human Services website – Marin Recovers provides access to a breadth of resources to help the community stay up to date with the status of COVID-19 in our county. The website offers access to local case rate through the Novel Coronavirus (COVID-19) Surveillance Update website that provides summary data, daily trends, demographics, other measures of COVID-19 Impacts and the State Blueprint Tiered system. Here is a glimpse of the current status of case rate for the Kentfield community.
---
Announcing Cans for Candy – a can food drive to help stamp out hunger, led by the Kentfield Teachers. Click here for a list of needed items. Donations can be left between 10 a.m.-1 p.m. on October 24th and 25th at Bacich School. Thank you in advance for your participation.
---
School Board
Next Monthly School Board meeting: November 10, 2020, 5 p.m., All are welcome and encouraged to attend.
Bacich News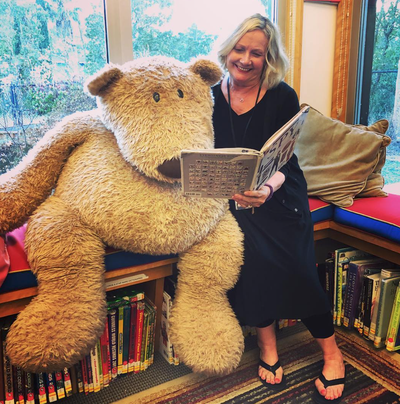 Check Out Books with the Bacich Library
If you would like to check out library books, please email me the titles you want. I will check them out to you and place them in plastic bags with your names on them on a cart. They will be available for pickup every Friday curbside in front of the office. See the library blog for instructions on how to access the Alexandria Library Catalog (to look for books). You can also return books every Friday as well. There will be a plastic bin labeled, "Return Bacich Library Books Here" in front of the office for your convenience. That way I can keep the books in the bin for the weekend and check them in during the week for safety purposes.
When families purchase books from Book Passage, please remember to mention your school at check out or in the comments field if ordering online. This will assure that our school will receive a portion of the purchase in the form of a bookstore gift certificate.
Thank you!!
Ms. Warnick
swarnick@kentfieldschools.org
---
Bacich Yearbook
Photos can be submitted to bacichyearbook2021@gmail.com. Please follow the instructions below when sending your photos.
The images must be .jpg, .png, or .tif files and must be at least 300ppi resolution.
Please provide the following information with each image:

FIRST NAME and LAST NAME for the main student featured in the image (or the left-most person).
Grade of student(s) in photo.
Description.
Additional names separated by commas.
Kent News
Kent Counselors Wellness Hub: Many of us in our community are navigating very challenging times right now and as the Counselors at Kent Middle School, we want you to know that we are here for you. We created this hub so you can easily access resources.
Born a Crime Book Club, Thursday, October 29th at 1:45 p.m.
If you would like to borrow a copy of the book, please email Ms. Jelen at rjelen@kentfieldschools.org. If you have already emailed me about it, your book will be ready to pick up on Monday after school on the cart outside the office.
Curbside Book Pick Up and Book Bags
Students may email Ms. Jelen the titles of books that they would like to read, and the book will left on a cart in front of the gate for them to pick up.
Thanks to the donations of many Falcons and their families, we have book bags for every grade level to pick up and enjoy! You will find these bags in boxes marked by grade level in front of the Kent office. Feel free to read, keep or pass on your books OR donate them right back to the book drive for another life!
Got Books?? If you are cleaning out your bookshelves, bring them to Kent for our Book Drive! We have lots of wonderful grade level bags just waiting for you to exchange your old books for! You can drop them off by the mural near the parking lot!
Happy reading,
Rebecca Jelen
Kent Librarian
rjelen@kentfieldschools.org