Bacich News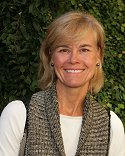 Dear Parents,
Fostering a school culture where students demonstrate compassion, empathy, and respect for one another is a goal that we strive for every day at Bacich.
Our students range from five to ten years old, and each child is in the early stages of mastering not only their academic skills but their social skills, as well. It is to be expected that children will make mistakes in these early years of development. They will inevitably hurt feelings and have their feelings hurt. This is normal. We support them as they develop the cognitive ability and resiliency to bounce back and stay afloat when the social seas are stormy.
Some students excel in reading and/or mathematics and others require additional support. Some of our students seem to understand how to navigate healthy friendships with strong social skills and others require further guidance. Practicing these skills both in the classroom and on the playground are important stepping-stones to becoming good citizens.
Several years ago, Bacich adopted the Six Pillars of Character as the foundation of our social and emotional program. The Pillars include: Respect, Responsibility, Trustworthiness, Responsibility, Fairness, and Caring. We practice these tenets daily in the work that we do and the interactions that we have with one another. It provides us with a common language to use when we engage in communication on campus.
We also incorporate the nationally recognized program, Responsive Classroom in our classrooms to support our students' social and emotional learning. This program guides and enhances our instruction and provides opportunities to practice and apply social skills throughout the day. An example of Responsive Classroom is our "Morning Meetings," which provide a opportunity for the teacher and students to have a morning check-in with one another.
We want our students to make responsible decisions and establish positive relationships. We want them to develop confidence and be comfortable with their friends at school. This takes practice and elementary school is where it all begins.
Thank you for partnering with us in the education of our students.
Thank you,
Sally Peck
Bacich Principal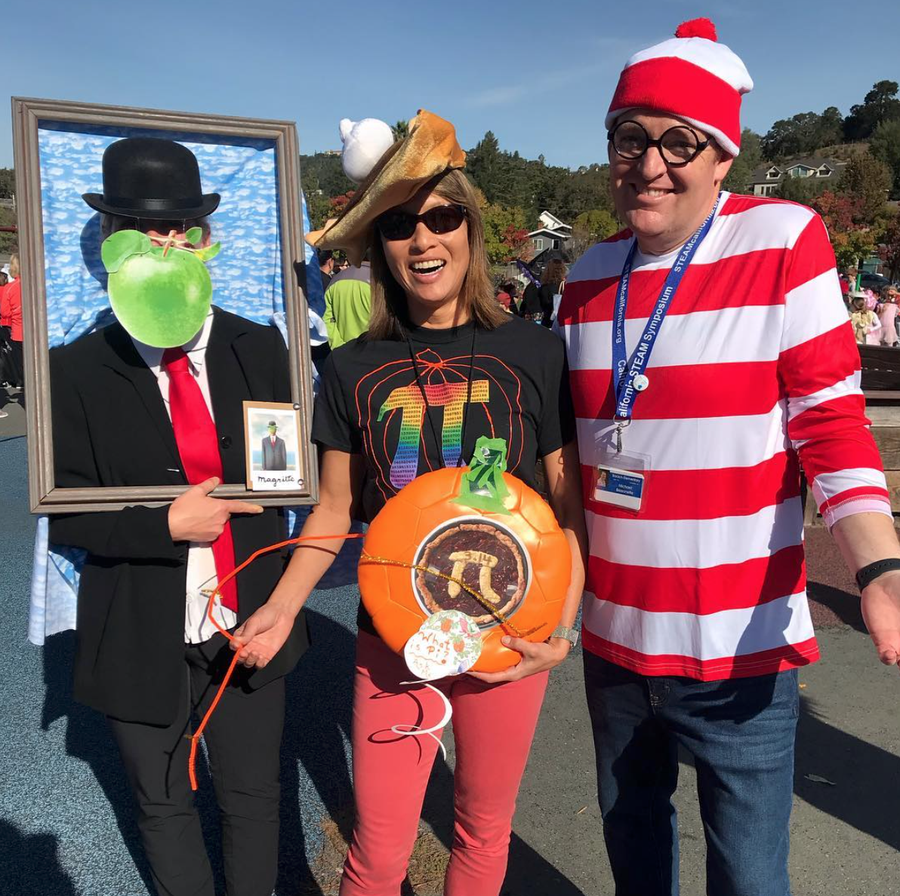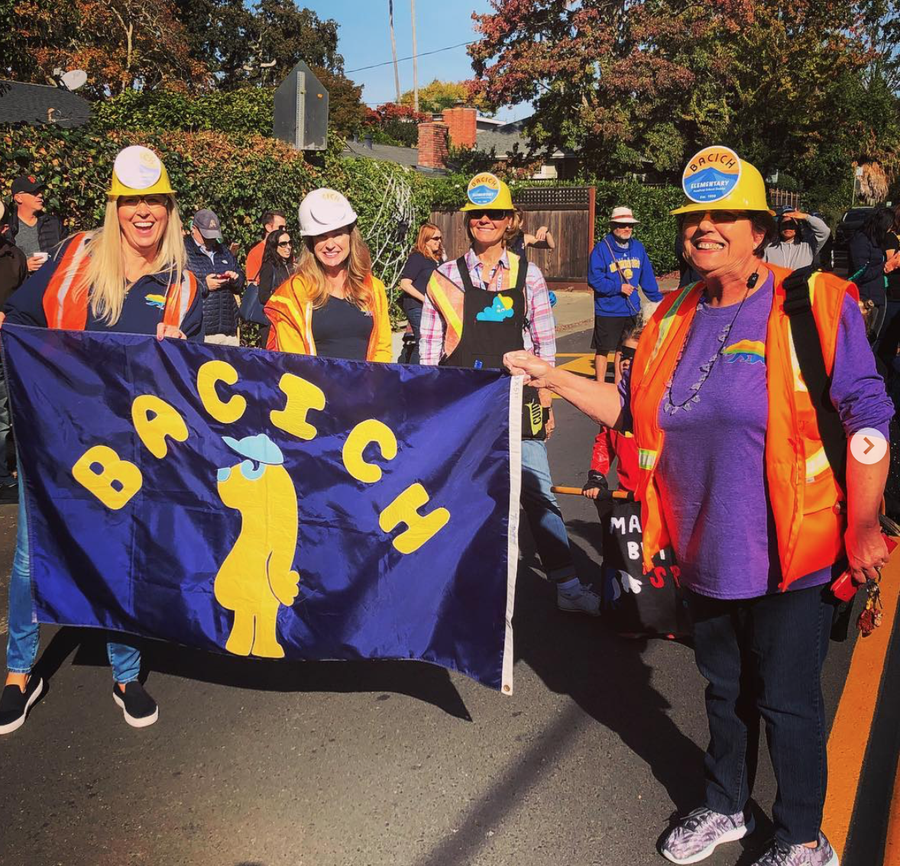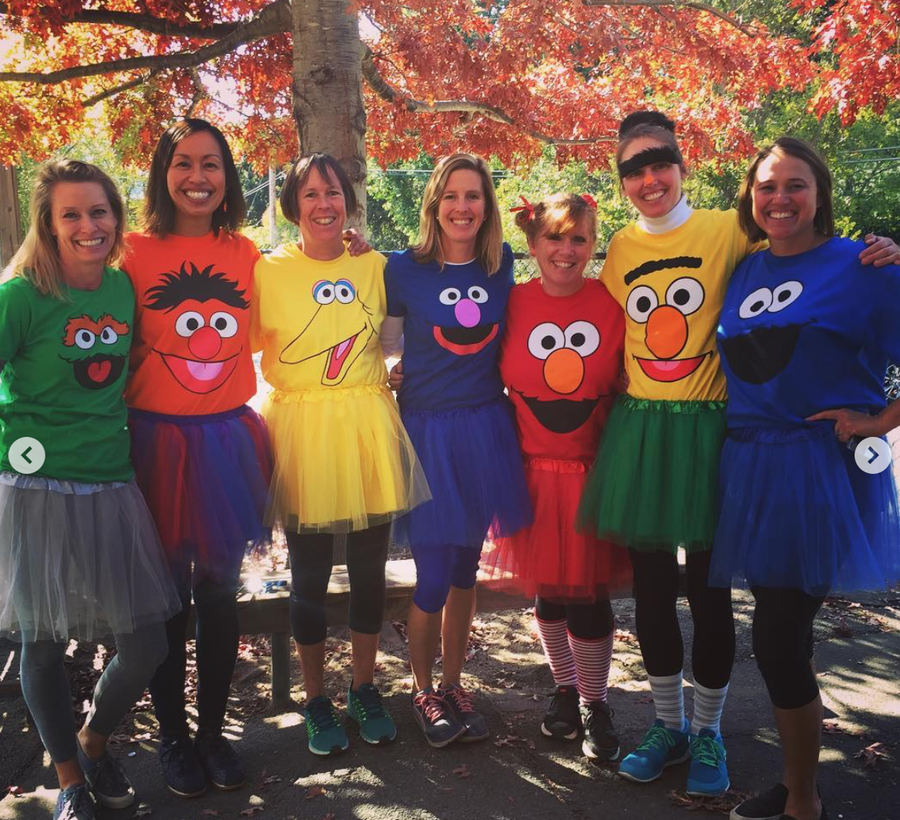 Bacich Library News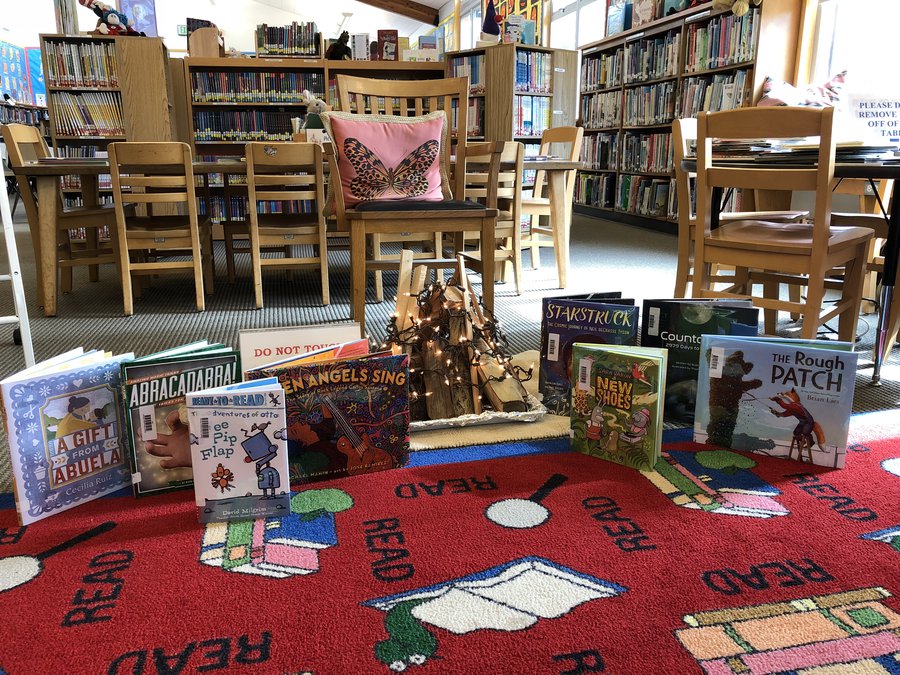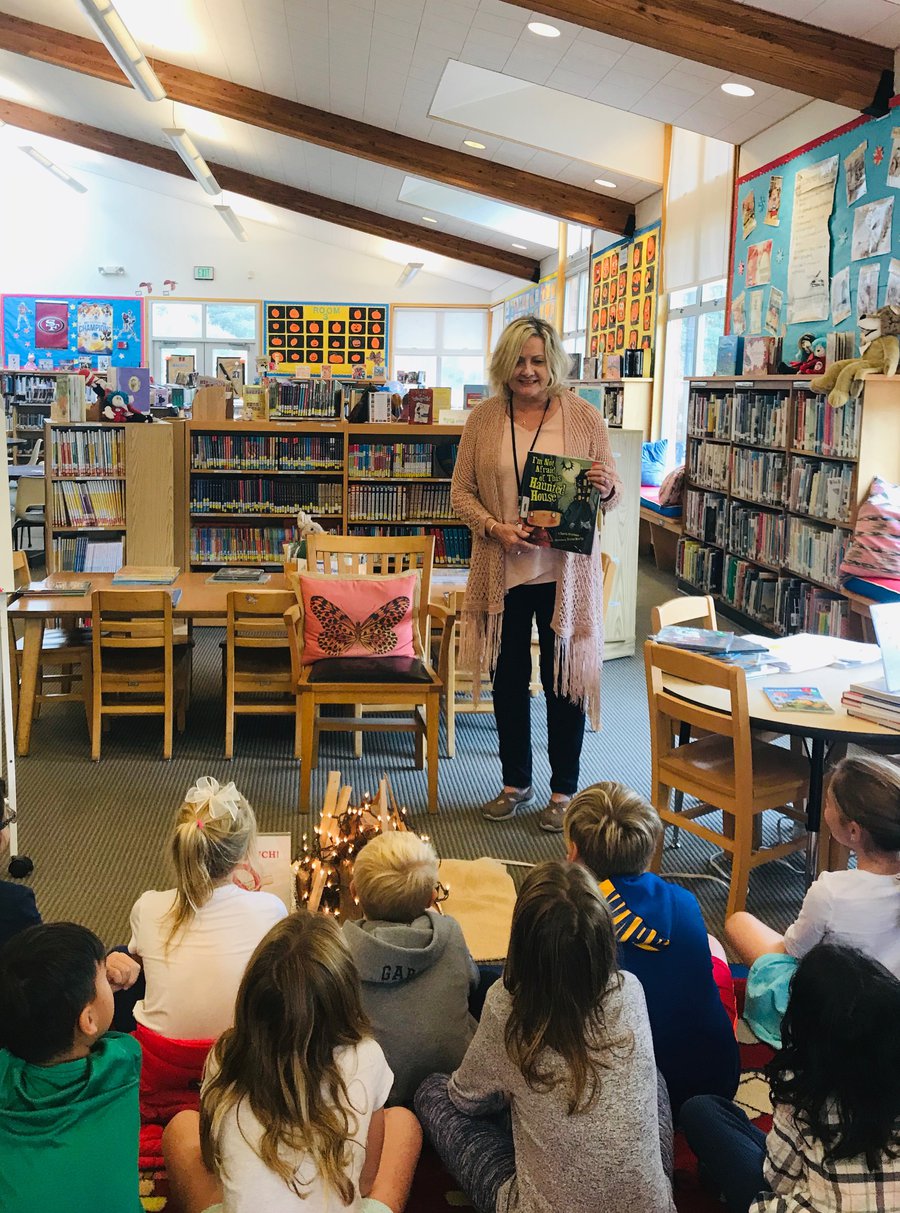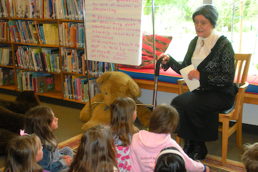 The Bacich Library has been bursting with activity this fall. There are 31 classes that visit the library every week to listen to stories, check out books, and learn information and digital literacy skills.
For the past six weeks, kindergarten, and first graders have been working on library behavior, library procedures, book care, parts of a book, and using shelf markers. TK and kindergarten classes are learning that the picture books are in "ABC" order on the shelves. They have checked out books from the first five letters of the alphabet. I am enjoying getting to know all the TK, kindergarten and first grade parents who have volunteered to help the children and shelve in the library. Thank you for taking time out of your busy schedules to come in and help.
The focus in second grade has been studying the Dewey Decimal Classification System and parts of a book. They have also been introduced to the OPAC, our online public access catalog and learned to search for books independently on the computer, which they learned is our "card catalog." This week, they enjoyed getting acquainted with age appropriate chapter books. They will continue to be introduced to chapter books in specific "genres" this month when we discover how many wonderful genres are available to them.
The second grade classes began researching information for their heritage reports. Ms. Warnick's grandmother–in-law, Letizia Monelli, came to talk to the children about what it was like to leave Garfigliano, Italy near Luca, in Tuscany and come to America through Ellis Island. (portrayed by Ms. Warnick) See photo above. This lesson prepared the students for their interviews of an ancestor by modeling oral history. Mrs. Monelli also enjoys speaking at Heritage Day. Continuing to integrate the curriculum into the library program, students were introduced to the Atlas and have been finding continents, countries and capitals on maps. They are discovering where their ancestors came from and what countries border their country.
To aid them in their quests, the library added resource guides to its homepage. Following are the steps to access the Research Databases from home:

Go to bacich.kentfieldschools.org; click on Academics; click on the Bacich Library link; click on the Research Databases information you need. This page lists resources, including websites your child could have used for his/her report. Third and Fourth graders can also access resource guides by following these steps.
The third grade classes have begun researching information for their Marin County reports. They are learning about plagiarism and oral histories, while enjoying a visit from Adeline E. Kent (portrayed by Ms. Warnick).
To aid them in their quest, the library has added a Pathfinder (resource guide) to its homepage. Following are the steps to access the Pathfinder from home: go to bacich.kentfieldschools.org; click on Academics; click on the Bacich Library link; click on the third grade pathfinder link; click on Marin County Information. This page lists resources, including websites your child can use for his or her report.
The fourth graders studied the Dewey Decimal Classification System. and celebrated Banned Book Week learning that some of their favorite titles have been banned from some libraries for a variety of reasons. Earlier this month they viewed a film on research and the Dewey Decimal Classification System. Third and fourth grade classes reviewed searching for books online by author, title, subject, and keyword.
I hope you have had an opportunity to come in and visit our library! We are open before school, lunch recess, and after school. Parents are welcome to visit and check out our great collection of books! Parents may create an account to check out books from the library for one month. We have a wonderful selection of picture books plus beginning and intermediate chapter books. Come in and browse! Your child would love to help you choose their favorites. The students are enjoying curling up with a good book and reading!
Thank you,
Susan Warnick
Bacich Librarian
Bacich Announcements
Bacich Parent – Teacher Conferences: November 13-16, 2018.
This is an opportunity for parents to hear from their child's classroom teacher about their son or daughter's progress during the first trimester of the school year. Conferences are a wonderful time for teachers to share about each student's strengths, outline areas that may need improvement, and set goals for the months ahead.
Families who wish to have translators present at their conference should schedule their conferences for Thursday–Friday between 1–4 p.m. or by coordinating with the classroom teacher.
We request that families of multiple households come together for the twenty-minute conference, which will be held in each teacher's classroom.
Online conference sign-ups will open Friday, November 2, 2018 at 8 a.m. and close at 3 p.m. on Friday, November 9, 2018.
Parents may access the conference sign-ups through the following link: conferences.kentfieldschools.org,
Simply choose Bacich, then select your child's teacher and choose a conference slot to reserve your desired time.
Please note that Parent-Teacher Conference days are Minimum Days and follow the Minimum Day Schedule for each grade level.
Please plan for the shortage of parking around campus and make every effort to be on time for your child's conference. You may reference the Safe Routes Park and Walk Map for Bacich to plan ahead for parking.
Please do not park on the school campus.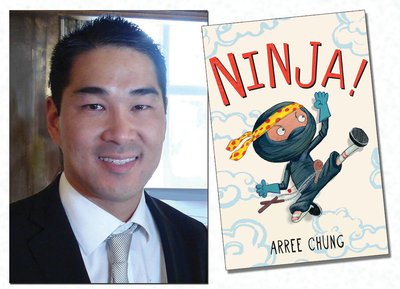 Author Visit At Bacich
On November 9, 2018, author Arree Chung (Mixed! Ninja and Ninja Claus) will visit Bacich grades K-2.
If you would like to order a signed book for child, please complete this paper form or online order form. All books will be signed by the author. Unsigned copies will be available at the book fair for purchase.
Deadline for pre-order for signed copies: November 6, 2018
Bacich Site Council
Next Meeting: November 5, 2018, 3-4 p.m., Bacich Library. All parents are welcome to attend.
Bacich Resources
Please visit our Bacich Families page for information such as the Bell Schedule, Parent Handbook, and other important resources and forms.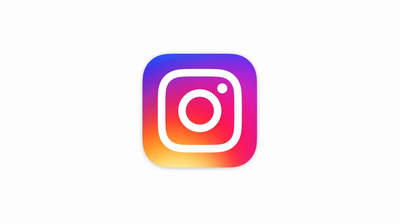 Follow Bacich on Instagram
Bacich Construction